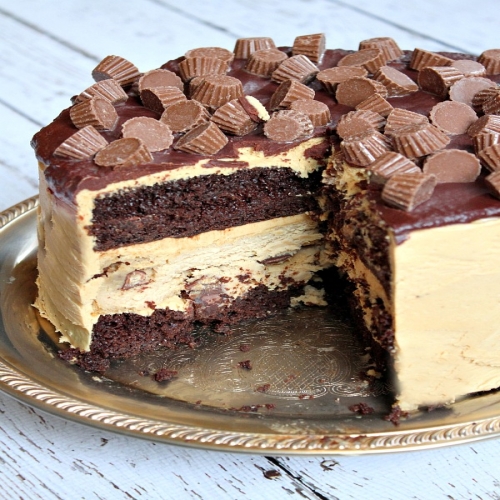 Prep Time:

1 hour

Cooking Time:

1 hour 30 mins

Serves:
Chocolate- Peanut Butter Cup Cheesecake Cake
Recipe Submitted by

Cobb

on

11/22/2014
Category: Holiday, Gifts, Desserts, Chocolate
Ingredients List
~~ PEANUT BUTTER CHEESECAKE LAYER ~~
Two 8-ounce packages cream cheese, at room temperature
1 1/4 cups creamy peanut butter (do not use natural)
1 cup granulated white sugar
3/4 cup sour cream
3 large eggs
2 teaspoons vanilla extract
One 8-ounce bag Reeses minis (or chopped Reeses Peanut Butter Cups (optional)
~~ CHOCOLATE CAKE ~~
2 cups granulated white sugar
1 3/4 cups all-purpose flour
3/4 cup unsweetened cocoa powder
1 1/2 teaspoons baking soda
1 1/2 teaspoons baking powder
1 1/2 teaspoons salt
2 large eggs
1 cup milk
1/2 cup vegetable or canola oil
2 teaspoons vanilla extract
1 cup boiling water
~~ PEANUT BUTTER FROSTING ~~
3/4 cup butter, at room temperature
1 1/2 cups creamy peanut butter (do not use natural)
1/4 cup milk (or a little more, as needed)
3 cups powdered sugar
Directions
1. Prepare the cheesecake layer: Preheat the oven to 325 degrees F. Spray a 9-inch springform pan with nonstick spray. It's also nice if you can line it with a round of parchment paper, if you have it. In a large bowl, use an electric mixer to combine the cream cheese and peanut butter until smooth. Mix in the sugar, then beat in the sour cream, eggs and vanilla. Keep mixing until everything is nice and smooth. If you'd like to have Reeses in the cheesecake, stir them in now. Scrape the batter into the prepared pan and smooth the top. Bake until it is no longer super wiggly in the middle when you (gently) shake the pan. A tiny bit of wiggle is fine, but if there's a lot then it's not quite done yet. It should take between 1 hour and 1 hour and 15 minutes to bake the cheesecake until done (it's completely okay if the cheesecake happens to crack- it will not be noticeable in the cake). Remove from the oven and let cool on the counter. Transfer to the freezer and keep frozen until ready to assemble the cake.

2. Prepare the cake layers: Preheat oven to 350°F. Grease and flour two 9-inch round baking pans. Whisk together sugar, flour, cocoa, baking powder, baking soda and salt in large mixer bowl. Add eggs, milk, oil and vanilla; beat on medium speed of electric mixer for 2 minutes. Stir in water (batter will be thin). Pour batter evenly into prepared pans. Bake 30-35 minutes or until wooden pick inserted in center comes out clean. Cool 10 minutes; remove from pans to wire racks. Cool completely.

3. Prepare the frosting: In a large bowl, use an electric mixer to combine the butter and peanut butter. Beat until smooth and well-combined. Mix in 1/4 cup milk, then add in the sugar a little at a time until it is all mixed in. Sprinkle in a little more milk, if needed, and continue to beat until the frosting is a good spreading consistency. It should be creamy and delicious!

4. Assemble the cheesecake cake: Place one cake layer into the center of a cake plate or platter. Lightly frost the first layer of cake. Remove the cheesecake from the freezer, take off the sides of the pan, and slide a knife under the the cheesecake to release it from the pan and peel off the parchment paper. Use a sharp knife to trim the cheesecake around the edges, as needed to match the size of your cake layers (see *Tips). Place the cheesecake layer on top of the first cake layer. Lightly frost the cheesecake layer. Place the second cake layer on top of the cheesecake.

5. Frost the cake: Scoop a good amount of frosting onto the top of the cake. Use a flat spatula to spread the frosting smoothly across the top and down the sides. If you're using the chocolate ganache, follow the instructions for that and spread it over the top. Sprinkle Reeses on top.

6. Refrigerate this cake until ready to serve (see tips below for serving and storage).

Recipes by Course
Recipes by Main Ingredient
Recipes by Cuisine
Recipes by Preparation
Recipes by Occasion
Recipes by Dietary