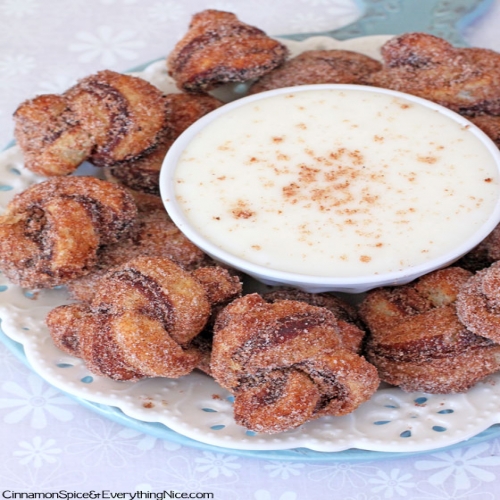 Prep Time:
Cooking Time:
Serves:
Cinnamon Roll Puff Pastry Knots with Cream Cheese Glaze.
Category: Breakfast, Holiday, Desserts, Eggs, Cheese, Rolls
Ingredients List
Filling:
1/4 cup butter, melted
1/4 cup granulated sugar
1 tablespoon ground cinnamon
Knots:
1 egg
1 tablespoon water
all-purpose flour, for dusting the work surface
1 puff pastry sheet, thawed (like Pepperidge Farm )
Coating:
1/2 cup granulated sugar
2 tablespoons ground cinnamon
Glaze:
4 ounces cream cheese (regular or light)
a dash of vanilla extract
1/2 cup confectioners' sugar
3 - 4 tablespoons milk
Directions
========Make the filling============

1. In a small bowl combine the butter, sugar and cinnamon.

========Make the knots=============

1. Beat the egg and water in a small bowl with a fork.

2. Sprinkle a work surface with flour and unfold the puff pastry, roll it out to a 10-inch square. Brush the bottom half of the pastry generously with the beaten egg.

3. Spoon the filling over it and spread from edge to edge over the egg. Brush the top half with egg and fold it over the filling. Roll the rolling pin lightly over it to help it stick together.

4. Cut the pastry into 20 (about 1/2-inch-wide) strips. Tie each strip into a "knot". Put them in the freezer for at least 30 minutes to 1 hour.

5. Preheat oven to 400 degrees F. Place the knots on a silpat or parchment-lined baking sheet (if using parchment lightly spray with non-stick spray) an inch apart.

6. Bake 18 - 20 minutes or until the pastries are golden brown - some of the cinnamon may leak out - that's normal.

========Make the Coating==========

1. Meanwhile in a large mixing bowl whisk the sugar and cinnamon together for the coating.

2. When the knots are cooked, scoop them up hot and place them in the bowl, use a spoon to gently toss them in the cinnamon sugar. Remove to a wire rack or platter to cool.

========Make the glaze============

1. Meanwhile melt the cream cheese in the microwave until it's soft and creamy about 20 - 30 seconds. Whisk in the confectioners' sugar and vanilla then enough milk to make a glaze. You can make it as thick or as thin as you like. If you make it too thin by mistake just mix in a little more sugar.

2. Serve the knots warm or at room temperature with the glaze for dipping or you can drizzle it over them.
Recipes by Course
Recipes by Main Ingredient
Recipes by Cuisine
Recipes by Preparation
Recipes by Occasion
Recipes by Dietary