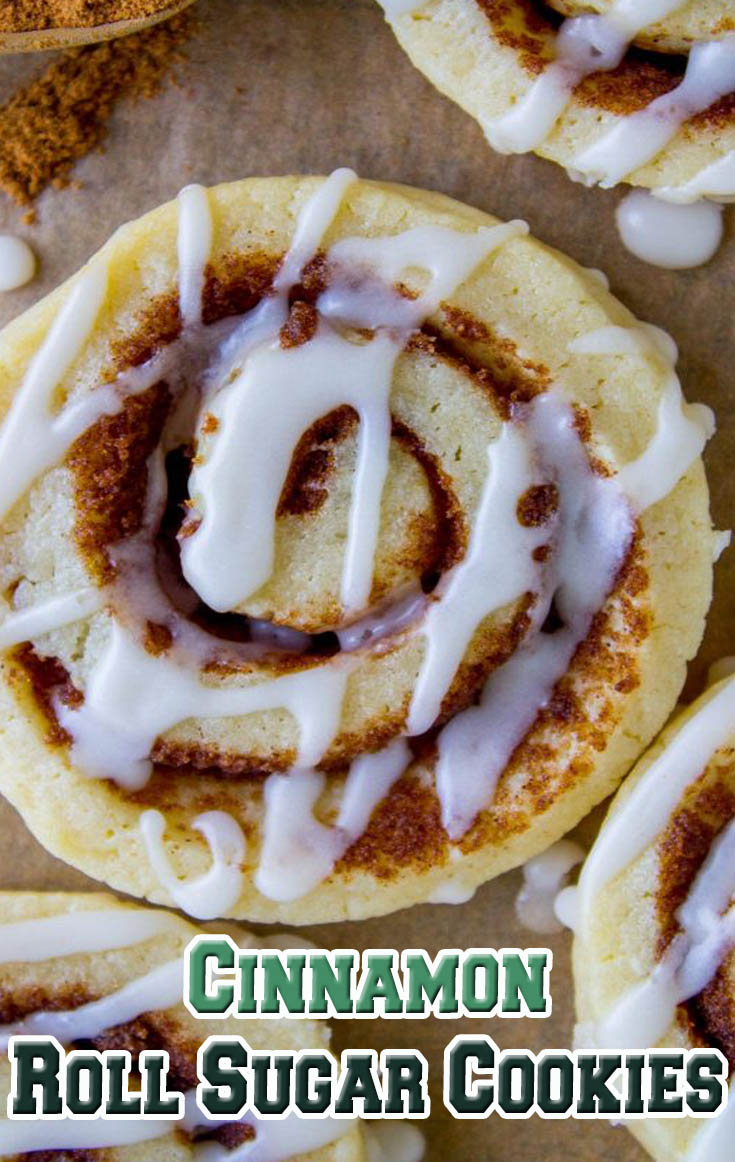 Prep Time:

20 mins

Cooking Time:

10 mins

Serves:

45
Cinnamon Roll Sugar Cookies
Recipe Submitted by

maryjosh

on

02/07/2019
Ingredients List
For the cookies
3/4 cup (1 and 1/2 sticks) salted butter, softened
4 ounces cream cheese, softened
1 and 1/2 cups granulated sugar
1 egg
2 teaspoons vanilla
3/4 teaspoon almond extract
1 teaspoon salt
3 cups all purpose flour, spooned and leveled
For the cinnamon filling
2 tablespoons melted butter
1/2 cup brown sugar
1 and 1/2 tablespoons cinnamon
For the glaze
1 teaspoon softened butter (optional)
1 cup powdered sugar
1/2 teaspoon vanilla
1-3 tablespoons milk
Directions
In a large bowl or stand mixer, beat the butter on medium speed until it is soft and fluffy, 1-2 minutes.
Add the softened cream cheese* and continue to beat for 1 minute, until well incorporated.
Add the sugar and beat well, 1-2 minutes, until fluffy.
Add the egg, vanilla, and almond extract. Beat well. Scrape the sides and bottom of the bowl with a spatula. This is my spatula that I love and use for every baking project.
Add salt and flour and beat until just barely combined, scraping the sides and bottom again. Do not stir too much or you will make your dough tough. The dough is pretty sticky!
Scrape the dough out onto a sheet of plastic wrap (or into a ziplock or tupperware). Cover or wrap tightly and put it in the fridge for 2 hours (or overnight) or in the freezer for 1-2 hours. (If I am in a hurry I will split the dough in half and wrap separately so that it will chill faster.)
Meanwhile, make the cinnamon filling. Melt 2 tablespoons of butter in a small bowl. Add brown sugar and cinnamon and stir together. Set aside.
When the dough is completely chilled, prepare a work surface with a light dusting of flour or powdered sugar.
If you have not already split the dough in half, do so now. Put half in the fridge, wrapped.
Use floured hands to flatten out the dough a bit, then use a rolling pin to roll it and smooth it out into a rectangle. Keep rolling until you have a 12x9 inch rectangle. Turn the dough over a couple times so that you make sure it's not sticking to your work surface!
Spread HALF of the cinnamon filling over the dough, leaving at least a half inch of dough clean at each edge.
Now it's time to roll the dough, starting with the long edge. Take care when you first roll to tuck it in really tight, this will be the center of your cookie. Continue rolling as tightly as you can.
Put some water in a bowl and wet your fingers. Use your fingers to completely seal the long edge of the dough (see photos). You don't need to seal the ends. Pat the wet edge with flour. You should have a sealed tube of dough.
Wrap tightly with plastic wrap and refrigerate for 30 minutes.
Preheat oven to 350 degrees F.
Line 2-3 baking sheets with silpat baking mats or parchment paper.
When you are ready to bake, remove the dough from the plastic wrap and use a very sharp serrated knife to cut the dough into half inch slices. (Or somewhere between a 1/4 in and 1/2 inch). Work quickly so that the dough stays chilled, you need it to go into the oven very cold. Don't push down on the knife, use a sawing motion. Be on the conservative side of a half inch when slicing, if these cookies are too tall, they will look funny when you bake them. When I am baking regular sugar cookies, I cut the dough about 3/8 inch thick.
Place the slices onto the baking sheet with at least 2 inches between each cookie. I fit 12 onto a sheet.
If you have space in your fridge, chill the whole baking sheet for another 5 minutes. The colder your dough is, the better it will hold it's shape. If you don't have space or time, then just get them into the oven as fast as possible.
Bake at 350 for about 8-10 minutes. The cookies are going to look under baked (shiny) because of the butter in the filling. Take them out and check the bottom of a cookie with a spatula. You want to aim for a VERY light golden brown color. Stick them back in for another minute or two if necessary.
Remove from the oven and let cool on the pan for 5 minutes. Transfer to a cooling rack and let cool completely.
Continue with the rest of the dough, chilling the dough when not in use.
Make the glaze: in a small bowl, stir together 1 teaspoon softened butter (you can skip this if you want) with powdered sugar, 1/2 teaspoon vanilla, and 1 tablespoon milk. Stir together until a glaze forms. Add milk in 1 teaspoon increments until it has reached a consistency you like.
When the cookies have cooled, drizzle them with the glaze. You can use a spoon, or put the glaze in a small ziplock bag and snip a corner.
Let the glaze harden (or don't) and then stuff your face!
Recipes by Course
Recipes by Main Ingredient
Recipes by Cuisine
Recipes by Preparation
Recipes by Occasion
Recipes by Dietary