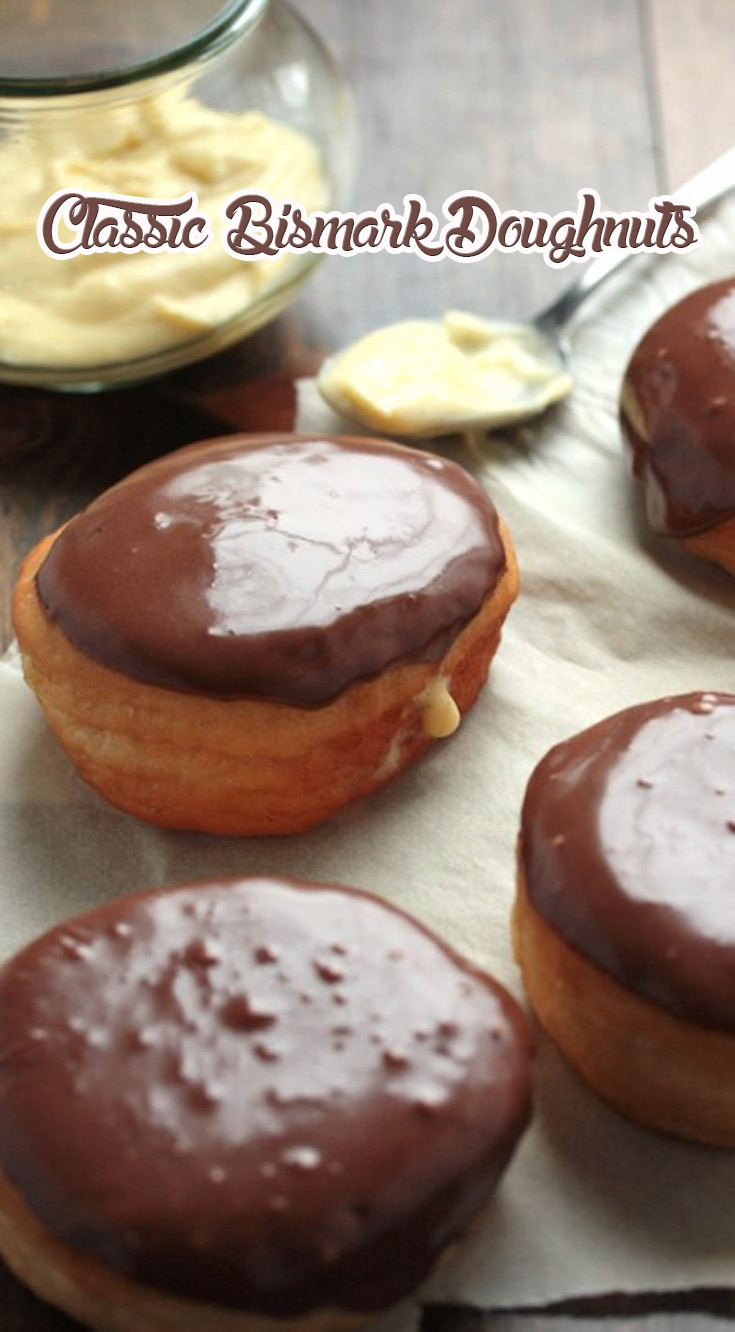 Prep Time:

2 Hours 30 Minutes

Cooking Time:

30 Minutes

Serves:

12
Classic Bismark Doughnuts
Recipe Submitted by

maryjosh

on

11/03/2016
Ingredients List
Doughnuts::
2 envelopes Yeast - about 3 Tbsp.
1 cup Water, 100-110 Degrees
1 cup Sugar + 1 Tbsp, divided
2 tsp. Salt
½ tsp Baking Powder
4-4 ½ cup Bread Flour
1/4 cup Shortening
3 Egg Yolks
2 tsp Vanilla
Vegetable oil for frying
Pastry Cream::
1/3 cup Sugar
5 Egg Yolks
1 1/2 Tbsp Cornstarch
1 cup Milk
1 cup Half-n-Half
1 Vanilla Bean, split and seeds scraped (or 2 1/2 Tbsp Vanilla Extract)
1 Tbsp Butter
Chocolate Glaze::
4 cups Powdered sugar
1 1/2 teaspoons light corn syrup
1/4 teaspoon table salt
1/4 teaspoon vanilla
1 teaspoon maple extract
¼-⅓ cup GOOD QUALITY Cocoa Powder (Not Hershey's)
1/3 cup (plus more if needed) hot water
Directions
Pour the warm water into the bowl of a stand mixer outfitted with a dough hook attachment. Sprinkle with 1 Tbsp sugar, and yeast. Let rest until the yeast has become foamy, five to ten minutes.

In a large bowl, whisk together remaining sugar, salt, baking powder, and bread flour.

When the yeast has become foamy, turn on mixer and add in shortening, eggs yolks and vanilla. Mix for one minute. Slowly begin to add in the dry ingredients, a cup at a time.
Once the flour is incorporated, turn the mixer medium to knead the dough. Knead dough with your hands to make sure that all dry bits at the bottom of the bowl have been incorporated. Lightly spray a large bowl with non-stick spray and add dough to the the bowl. Roll dough around to coat lightly with oil. Cover with plastic wrap and place in a dark warm place to rise. Let rise for 1-2 hours, or until doubled in size.

On a floured suface, roll the dough out into a 14 x 12 inch rectangle. Using a 3 inch round cookie or biscuit cutter. Cut out rounds and place on a cookie sheet to proof dough an additional hour.

Heat 2"+ vegetable oil in an electric skillet or a dutch oven to 350 degrees. Place a couple of doughnuts into the oil at a time and avoid them touching. Cook until deep golden brown, flip and cook again. With tongs, remove from oil and place on a paper towel lined cooling sheet to drain. Ensure oil is heated to 350 degrees between batches. Repeat with remaining doughnuts, and let drain on a paper towel lined baking sheet. Allow to cool completely before filling or frosting.

Pastry Cream ::
**Make up to 24 hours in advance and refrigerate until 1 hour prior to use. Ensure the pastry cream is cold and set before filling doughnuts**

In a medium saucepan, heat the milk, heavy cream and vanilla bean to a boil over medium heat. Immediately turn off the heat and set aside to infuse for 10 to 15 minutes. In a bowl, whisk the egg yolks and granulated sugar until light and fluffy. Add the cornstarch and whisk vigorously until no lumps remain. Temper the eggs by whisking in 1/4 cup of the hot milk mixture until incorporated. Whisk in the remaining hot milk slowly.

Pour the mixture back into the saucepan. Cook over medium-high heat, whisking constantly, until thickened and slowly boiling. Remove from the heat and stir in the butter. Let cool slightly. Press through a fine mesh strainer to remove any curdled bits and remove husk of vanilla bean. Cover strained pastry cream with plastic wrap, and press the plastic wrap on top of the pastry cream to make sure it doesn't form a skin. Chill at least 2 hours or until ready to serve.

Chocolate Glaze ::
In a bowl, whisk together all ingredients until smooth. Dunk one side of the doughnut into the glaze and then let rest 10 minutes until glaze sets.

To Assemble ::
Once doughnuts are fried and completely cooled, fill a pastry bag with a Bismark or filling tip, Fill doughnuts with the pastry cream. Let rest 10 minutes. Gently dunk tops of each doughnut into the chocolate glaze and let rest for 10 minutes until glaze is set. Devour.
Recipes by Course
Recipes by Main Ingredient
Recipes by Cuisine
Recipes by Preparation
Recipes by Occasion
Recipes by Dietary