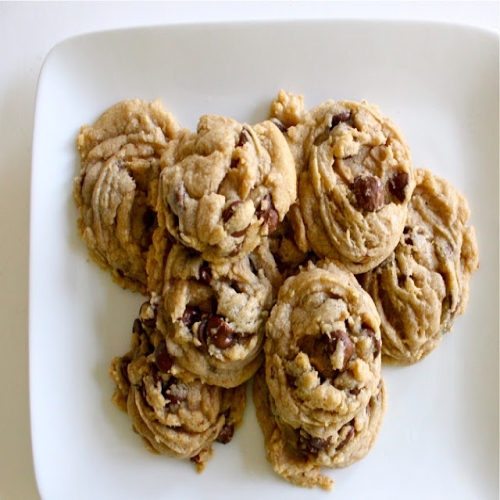 Prep Time:
Cooking Time:
Serves:

Makes 5-6 dozen
CLASSIC CHOCOLATE CHIP COOKIES
Recipe Submitted by

GORP

on

08/04/2014
Category: Kids, Chocolate, Cookies
Ingredients List
1 Cup Vegetable Shortening
1 Cup Butter (don"™t use margarine)
1 1/2 cups White Sugar
1 1/2 cups Brown Sugar
3 eggs
2 tsp Vanilla
5 1/4 to 5 1/2 cups Flour *
1 1/2 tsp Baking Soda
1 1/2 tsp Salt
2 bags choc chips (12 oz bags) "" 1 semi-sweet, 1 milk chocolate
Directions
1. Use shortening and butter. I know some of you are going to replace the shortening with butter, and I won"™t hold it against you. But the shortening is what gives the cookie a slight crispness around the edges while still feeling soft inside.

So, start by mixing the shortening and butter with white and brown sugar. Add the three eggs and vanilla and here"™s the second key point"¦.

2. Mix the buttery/egg mixture for a full THREE minutes. The time is important for the eggs and butter to become fully whipped and to develop new chemistry. You"™ll watch the buttery mix go from gushy liquid to beautiful cream

In a separate bowl, mix the dry ingredients together (flour, baking soda, and salt). Add 1/2 of the flour mixture to the butter mixture and mix. Then add the other 1/2 and mix.
And finally"¦.

3. Use a lot of good chocolate chips and mix semi-sweet with milk chips. Some recipes call for one bag of chocolate chips. This recipe is large so we"™re using 2 bags. But sometimes I throw in 2 1/2!

Guittard brand is my favorite. I use a mixture of semi-sweet and milk chocolate chips but sometimes I throw in their extra dark chips too.

Go ahead and sample a few balls.
Then use a small cookie scoop to make 15 uniform balls on an ungreased cookie sheet (do NOT use a non-stick pan""the cookies won"™t bake as evenly)

Also, I find that smaller cookies are better than large ones because then you can eat 3 instead of just one! It"™s all psychological.

Bake at 350 degrees for 8-9 minutes or just until the cookies are slightly golden on top. If you wait till the cookies are entirely golden on the outside, it"™s too late. They"™ll be overcooked. You want them to be soft inside. Allow them to cool for a few minutes and transfer to a cooking rack, though they may not make it that far.

Making Cookie Dough Loaves:
Now if you"™re making cookies for a big party, go ahead and keeping scooping/baking all the dough. But cookies are only good for a day or two (in my opinion), so why bake the whole batch and have them go to waste? If you freeze the dough, you can have fresh cookies any time you want!

* Divide the dough up into 3 or 4 piles on wax paper sheets.
* Use the paper and your hands to shape each pile into a loaf.
* Roll them up inside of the wax paper.

Then wrap each loaf with plastic wrap (to avoid freezer burn or freezer smells). Or"¦.simply place them all in a ziplock bag together. Then put them in the freezer!

When you"™re ready to bake a few cookies, take out a cookie loaf. Microwave it for about 20 seconds. Pull off a bit of dough and bake them just as we did above for 8-9 minutes.

enjoy!!
Recipes by Course
Recipes by Main Ingredient
Recipes by Cuisine
Recipes by Preparation
Recipes by Occasion
Recipes by Dietary