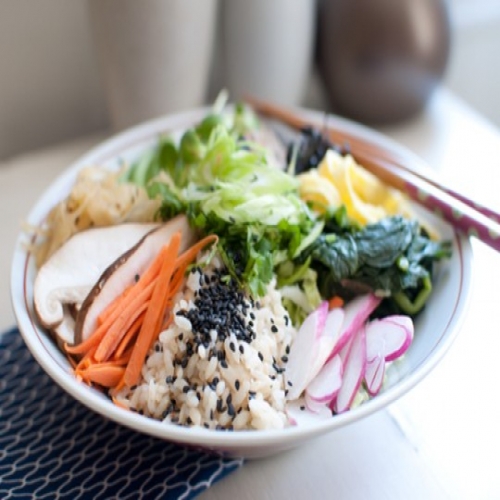 Prep Time:
Cooking Time:
Serves:
Clean and Light Sushi Bowl
Category: Dinner Party, Main Dish, Peppers, Mashrooms, Meat
Ingredients List
1 ½ cups napa cabbage (lettuce, kale, and bok choy are also great)
â…" cup brown rice (or quinoa)
½ of a scrambled egg, sliced
Small handful of sprouts
Small handful of spinach, cooked and drained
Small handful of radishes, thinly sliced
Pinch of seaweed (nori), sliced
Toasted black sesame seeds (or regular)
3 oz. cooked salmon (raw, sushi grade fish, chicken, or shrimp are also great)
1 shiitake mushroom, sliced
¼ of avocado, sliced
1 tablespoon kimchee or raw sour kraut
OTHER TOPPING IDEAS: mango, cucumber, pickled ginger, asparagus
Dressing
½ tablespoon toasted sesame oil
1 tablespoon apple cider vinegar
Juice from ½ of a lemon
Pinch of sea salt
Directions
1. Greens (predominant ingredient on the bottom)
2. Herbs (for freshness)
3. Protein (fish, eggs, chicken, beef)
4. Sprouts (for "˜live"™ nutrients and texture)
5. Watery Veggies (for crunch)
6. Seaweed (for minerals and flavor)
7. Black Sesame Seeds (for flavor)
8. Mushrooms (for flavor and fullness/umami)
9. Avocado (for good fats)
10. Starchy Vegetables or Grains (i.e. "" â…" cup sweet potato, 11. brown rice, or quinoa for texture)
12. Pickled/fermented Veggies (i.e. "" kimchee or raw kraut for 13. flavor and digestive pros)

----------------------------------------------------------

1. Load the bottom of a medium bowl with the napa cabbage (or other greens).
2. Neatly arrange the other toppings.
3. Pour the dressing over everything.
4. Enjoy.


Recipes by Course
Recipes by Main Ingredient
Recipes by Cuisine
Recipes by Preparation
Recipes by Occasion
Recipes by Dietary