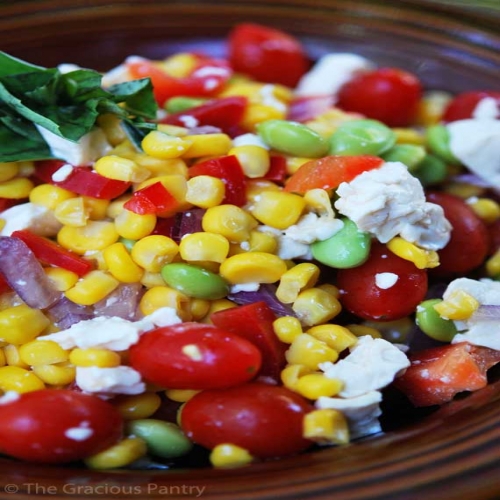 Prep Time:
Cooking Time:
Serves:

14 Servings
Category: Corn, Side Dishes, Salads
Ingredients List
2 pounds sweet corn
1 large red bell pepper
1 (10 ounce) package cherry or other small tomatoes
1/2 large red onion
1 pound package edamame beans (shelled)
1 (10 ounces) package organic tofu (optional)
~~~~ Dressing Ingredients ~~~~
4 teaspoons ground black pepper
1 teaspoon salt
4 teaspoons garlic powder
4 tablespoons olive oil
1/2 cup balsamic vinegar
1 small bunch fresh basil (about 1-2 cups depending on your tastes)
Directions
1. Start your corn on the stove, and gather all your ingredients.

2. Chop everything except the edamame beans and tomatoes (and corn, obviously) into bite size pieces. The smaller you chop the pieces, the better texture your salad will have.

3. When the corn is done cooking, add that and all the veggies (do not add the basil) to a large mixing bowl. Toss well.Clean Eating Balsamic Basil Corn Salad

4. Make your dressing by adding all dressing ingredients to a bowl and mixing well.

5. It"™s best to add the dressing once you have served the salad. If you add the dressing to the entire salad, the leftovers won"™t keep as long in the fridge. That said, eat up. Corn can sour quickly in the fridge.Balsamic Basil Dressing

6. If you are a meat eater, add some baked chicken to this salad for protein.

Recipes by Course
Recipes by Main Ingredient
Recipes by Cuisine
Recipes by Preparation
Recipes by Occasion
Recipes by Dietary