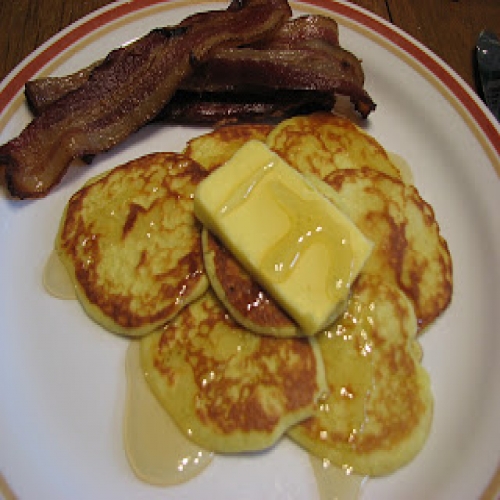 Prep Time:
Cooking Time:
Serves:
Ingredients List
2 cups unsweetened shredded coconut or 1 cup coconut butter
4-8 dates (optional)
10 oz cooked butternut squash or other winter squash (I buy it frozen)
10 eggs
1 tbsp vanilla
Directions
If you are using coconut butter skip this first step otherwise put the shredded coconut into a high speed blender like a vitamix or a food processor and let it process till it makes a smooth butter. This will take 5-15 minutes depending on your machine. Scrape down the sides as needed.

If using coocnut butter warm it in a bowl of warm water till soft before using it. Blend together the coconut butter, squash and optional dates till smooth (the dates add sweetness, we usually skip them and just sweeten with toppings). Add the eggs and vanilla and blend till smooth. You want a thin batter like regular pancake batter. If it is too thick add a little water as needed to get it the right consistency.

Heat your frying pan or griddle on medium heat and grease well. I used bacon grease but you can use any solid fat that you like to use for frying. Wait till it is hot before pouring on the batter. You can test it by putting a drop of water on it. You want the water to jump around and evaporate pretty quickly. If the water just sits there it isn"™t hot enough and if it evaporates instantly you probably need to turn the heat down.

Make small pancakes. These hold together pretty well but I wouldn"™t go larger than 3-4 inches across or they may break up on you. I am in the habit of making really small pancakes since most GAPS pancakes are really delicate but these seemed sturdier than most that I have made.
Can you tell which side of my griddle was the hottest? These cook up pretty quick!

This made a lot of pancakes and they are really filling thanks to all the fiber and fat in the coconut butter. My family of 4 ate all we wanted and had quite a few left over. I love left over pancakes! They are so quick and easy to reheat or toast and the kids think they are a real treat and I don"™t have to make a fresh breakfast! If you don"™t love left over pancakes go ahead and half this recipe.

Serve with a big slab of Kerrygold Butter and some honey drizzled over the top and a side of bacon. So good!
Recipes by Course
Recipes by Main Ingredient
Recipes by Cuisine
Recipes by Preparation
Recipes by Occasion
Recipes by Dietary