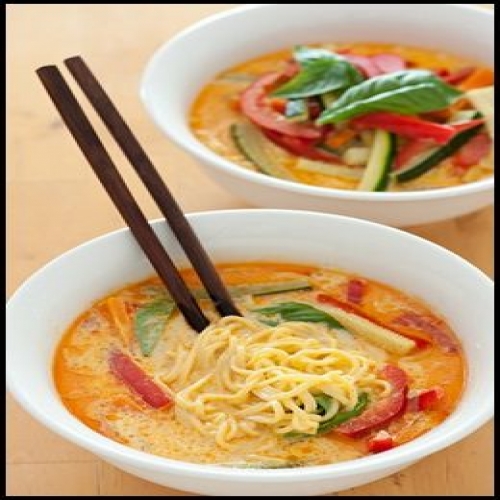 Prep Time:
Cooking Time:
Serves:
Category: Healthy Recipes, Curries
Ingredients List
~~~~ The cast ~~~~
1 Bell Pepper, cut into thin strips
A handful of baby carrots, cut into thin strips
1 jar Thai Kitchen Red Curry Paste
1 can lite coconut milk
1 cup chicken broth
Rice noodles
Cilantro
soy sauce, to taste
Directions
Step One: Submerge the rice noodles in boiling water. Let them soak for a bit. If you can cover them, all the better. But just be sure they aren"™t on the heat any longer""nobody likes an overcooked noodle. Oh, and don"™t forget to take a really blurry picture.

Step Two: Drizzle a bit of olive oil into your pan and empty about half the jar of the curry paste into the pan. Mix up and let those two really get to know each other.

Step Three: Add one cup water plus one cup chicken broth into the skillet. Add the carrots and bring to a boil. Cover and let it rumble"¦but only for like a minute. Nobody likes mushy carrots.
image

Step Four: Add the can of coconut milk and the peppers.
image
"¦okay, and maybe a bit more curry paste
Step Five: Add about 1/4 cup of soy sauce into the mix. In a bowl, put a decent helping of noodles. Then ladle on some of that delicious sauce and veggies right over the noodles. Top with cilantro. Add more soy sauce if you"™re like me and have a Sodium-Wasting Superpower.

I made this for the first time a few months ago and I keep changing it a bit each time. It"™s always a staple on our Monthy Meal Plan and fits nicely into our Under $200/month grocery budget. From start to finish, it"™s only about 15 minutes. Quite the delicious meal, if I say so myself. And I do say so myself"¦who else would say it for me?
Happy eating!
Recipes by Course
Recipes by Main Ingredient
Recipes by Cuisine
Recipes by Preparation
Recipes by Occasion
Recipes by Dietary