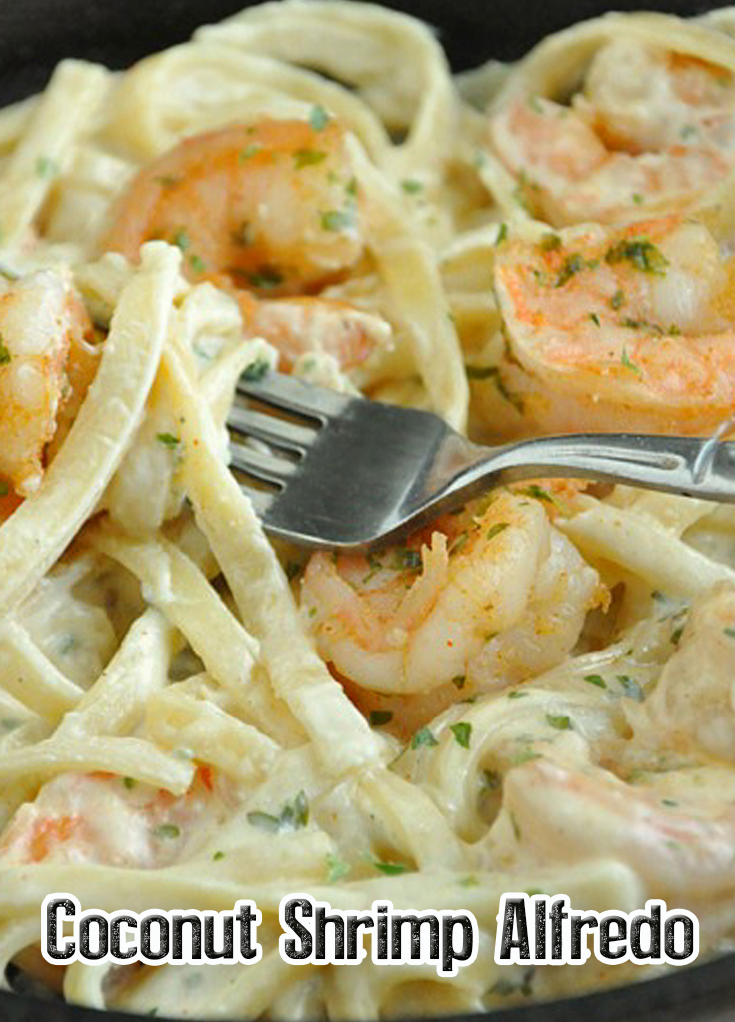 Prep Time:

15 mins

Cooking Time:

15 mins

Serves:

2
Coconut Shrimp Alfredo
Recipe Submitted by

maryjosh

on

01/14/2019
Ingredients List
16 large raw shrimp (peeled, cleaned, and thawed)
1 tsp coconut oil
1/4 cup shredded coconut
2 cloves garlic smashed and minced
1/2 TBSP dried parsley
1/2 tsp garlic powder
1/4 tsp cayenne pepper
1/8 tsp salt
red pepper flakes to taste
FOR THE SAUCE:
6 oz dry fettuccine noodles
1/2 cup freshly grated romano or parmesan cheese
1 cup unsweetened coconut milk
1-2 TBSP goat cheese
1 tsp lemon juice
1/2 tsp dried parsley
1/2 tsp garlic powder
1/4 tsp salt
black pepper and any additional salt to taste
Directions
Grab a small pot and cook noodles according to the package's directions. I undercook mine by a minute or two since they will spend a few extra minutes in the sauce.
While they boil, measure out the remaining ingredients and start on the shrimp.
Heat a small nonstick frying pan or skillet to medium-high and add shrimp.
Once they begin to firm up [about a minute or so into cooking] add your coconut oil, garlic powder, salt, parsley, cayenne pepper, and minced garlic to the pan and stir well to coat.
Next add in your coconut and flip the shrimp until both sides are pink and opaque. You can add a teeny bit more coconut oil if you think you need it and, after tasting, decide if you're up to the red pepper flake challenge. I adore the pop of color and little kick of heat they add to the creamy sauce.
The shrimp and the noodles should be ready around the same time, simply remove the shrimp from the burner while you start on your sauce. If you prefer to time it so your shrimp is done at the same time as the sauce, simply begin cooking them a few minutes after starting the noodles. Easy peasy!
Once the noodles are al-dente and tender, remove the water [drain, strain, whatever!] and reduce heat to medium-low [about a 4 on the dial].
Add the noodles back to the pot and pour in the remainder of your ingredients.
Stir continuously with a fork [with a few pauses in between] until the sauce thickens [approx 5-10 minutes].
If you're staring at a pot full of liquid for a few minutes there, don't be alarmed; it will thicken at the very end. If you're a bit impatient you can try upping the heat a tad but [as I've found out the hard way] higher heat means increased risk of burning, so you'll want to stir incessantly and watch it like a hawk.
Once the sauce is deliciously thick and creamy, stir in half of the shrimp and grab a teeny bite to taste test. Feel free to add extra garlic [I have a heavy hand with the stuff], parsley, salt, pepper an even some extra cayenne pepper for a little zing!
Top with the remaining shrimp/coconut mixture and dig in!
Serve with a mountain-o-veggies [steamed or salad!] and a few lemon wedges to add a refreshing burst of citrus if you're up for it!
Recipes by Course
Recipes by Main Ingredient
Recipes by Cuisine
Recipes by Preparation
Recipes by Occasion
Recipes by Dietary