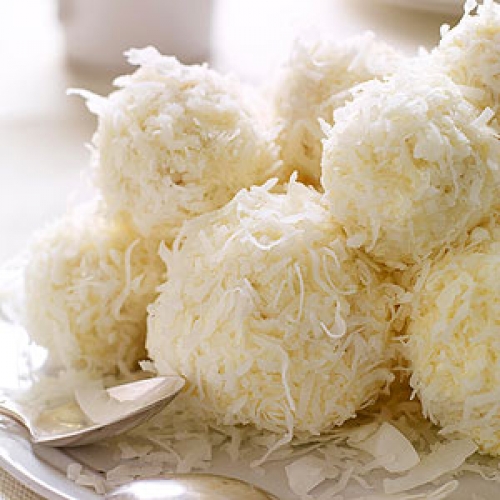 Prep Time:

1-hour

Cooking Time:

18-20 minutes

Serves:

14-servings
Category: Holiday, Desserts, Eggs, Fruit
Ingredients List
Coconut Milk Cake
4 eggs, separated, room temperture
3/4 cup sugar
1/3 cup coconut oil, room temperature
1 1/2 cups cake flour
3/4 cup unsweetened coconut milk
2 teaspoons baking powder
1/2 teaspoon sea salt
1 1/2 teaspoons cream of tartar
1/2 teaspoon vanilla
Double Vanilla Frosting:
5 egg whites
1 cup sugar
1 1/2 cups unsalted butter, cut into 1/2-inch cubes and softened
1 1/2 teaspoons vanilla bean paste
1/2 teaspoon vanilla
4 teaspoons seedless raspberry of strawberry preserves
To Assemble:
3 cups sweetened, flaked or shredded coconut
Directions
=============For the cake==============

1. For Coconut Milk Cake, preheat oven to 325 degrees F. Grease and flour each 31/2 inch cup of two 6-cup mini ball pans or 48 cake pop molds.

2. In a large mixing bowl whisk together the egg yolks, 1/2 cup of the sugar, and coconut oil. Add coconut milk; whisk until just combined. In another large bowl sift together cake flour, baking powder, and salt. Sift flour mixture over egg mixture. Using a rubber spatula, fold in flour mixture until smooth.

3. In a medium bowl beat egg whites and cream of tartar with an electric mixer on high speed until foamy. Slowly add the remaining 1/4 cup sugar; beat until medium-soft peaks form.

4. Add one-third of the egg whites to batter; stir until no streaks of white remain. Gently fold in remaining egg whites and vanilla until completely combined.

5. Spoon about 1/3 cup batter into each prepared 3 1/2-inch ball cup, or a rounded tablespoon into each cake pop mold. Bake 3 1/2-inch balls 18 to 20 minutes or cake pops 10 to 12 minutes or until a toothpick inserted near center comes out clean. Remove from oven. Cool 5 minutes on wire rack. Remove cakes from pans; cool completely on wire rack.

=========Double Vanilla Frosting=============

1. For Double Vanilla Frosting, in a large stainless-steel bowl combine egg white and sugar. Set bowl over a large saucepan of simmering water (bottom of bowl should not touch water).

2. Whisk egg white mixture constantly until sugar melts and an instant-read thermometer registers 160 degrees F , about 7 to 10 minutes. Remove bowl from saucepan. Using an electric mixer, beat mixture on high speed until it doubles in volume, holds a peak, and is cool, about 12 minutes more. Reduce speed to medium-low. Slowly beat in butter, a few pieces at a time. Using a rubber spatula, fold in vanilla bean paste and vanilla.

3. To assemble 31/2-inch balls, in a small bowl combine 1 cup of the frosting and raspberry preserves. Place filling in a pasty bag fitted with small round tip. Insert tip of pastry bag into center of the flat sides of cakes; squeeze to fill. Use frosting to attach two cakes, flat sides facing in.

4. Using a small offset spatula, cover each snowball with remaining frosting. Press coconut flakes in an even layer to cover each snowball. Makes 6 large snowballs or 48 cake pop snowballs.

Recipes by Course
Recipes by Main Ingredient
Recipes by Cuisine
Recipes by Preparation
Recipes by Occasion
Recipes by Dietary