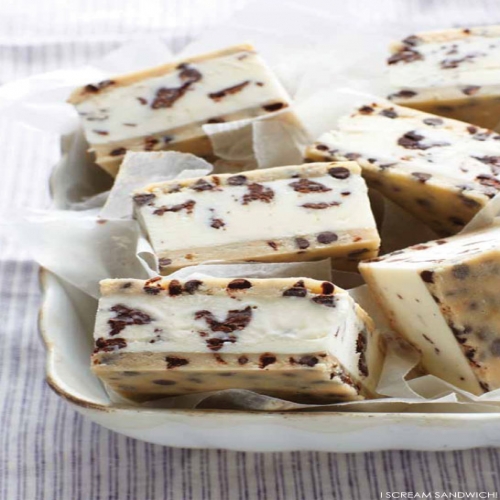 Prep Time:
Cooking Time:
Serves:
COOKIE MONSTER ICE CREAM SANDWICH
Category: Sandwiches
Ingredients List
2 cups (480 ml) whole milk
¹â"³ cup (67 g) granulated sugar
2 tablespoons golden syrup or light agave nectar
2 tablespoons tapioca starch
¼ teaspoon kosher salt
1 cup (240 ml) heavy cream
½ teaspoon pure vanilla extract
½ cup (100 g) bittersweet (60 to 70 percent) chocolate, chopped or chips
1 tablespoon neutral vegetable oil or coconut oil
Directions
Whisk ½ cup (120 ml) of the milk with the sugar, syrup, tapioca, and salt in a medium saucepan until no lumps remain. Stir in the remaining 1½ cups (360 ml) milk and the cream. Heat the mixture over medium-high heat, stirring with a heatproof spatula, until it begins to steam and slightly bubble at the edges. Adjust to a simmer and cook, stirring constantly, until the mixture thickens to the consistency of a cream sauce, about 3 minutes longer; do not fully boil.

Transfer the mixture to a metal bowl set over a larger bowl of ice and water. Stir occasionally until the mixture is cool, taking care not to slosh water into the bowl. Stir in the vanilla, then cover and refrigerate until very cold, at least 2 hours. Transfer the bowl to the freezer for the last half hour before spinning it.

Freeze the mixture in an ice cream maker according to the manufacturer"™s directions. While the mixture spins, melt the chocolate and oil in the microwave or in a small saucepan until you can stir it smooth. Let cool to room temperature, keeping it fluid.

With the machine running, drizzle in the cooled melted chocolate during the last minute of spinning. (Alternatively, drizzle the chocolate over the ice cream as you transfer it to the container, folding it in with a spatula or ice cream paddle to break it up as you go.) Transfer the ice cream to a chilled container, cover, and freeze until firm but still spreadable, at least 4 hours.
Recipes by Course
Recipes by Main Ingredient
Recipes by Cuisine
Recipes by Preparation
Recipes by Occasion
Recipes by Dietary