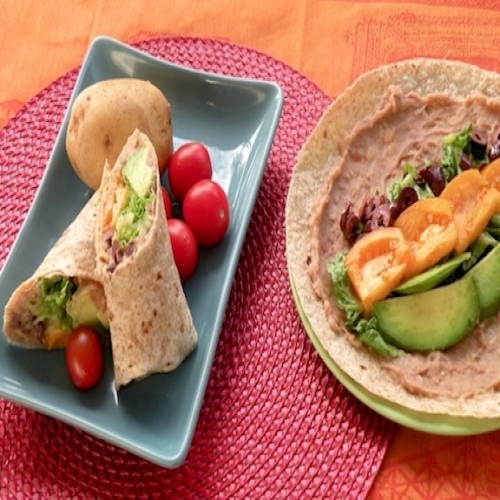 Prep Time:
Cooking Time:
Serves:
Category: Breakfast, Healthy Recipes, Peppers, Tomatoes, Beans
Ingredients List
Half of a 16-ounce can spicy or green chili organic vegan refried beans
(or see Note if you want to make them from scratch)
Two 10-inch round wraps, lightly warmed if desired
Thinly shredded romaine lettuce, as needed
1/2 medium ripe avocado, peeled and thinly sliced
1 medium tomato, thinly sliced
1/4 cup sliced pitted briny olives or sliced sun-dried tomatoes (not oil-cured)
Fresh or pickled jalapeño pepper slices, option
Directions
Combine half of the refried beans in a bowl with 1/4 cup of water, and work together with a fork until smooth, to thin the beans out a bit (most canned refried beans are too dense to spread.

Divide the refried beans between the two wraps and spread evenly.

Arrange a mound of lettuce down the center of one wrap. Arrange half of the avocado slices over it, then a layer of tomatoes. Sprinkle with olives or dried tomatoes, and finally the optional jalapeños. Repeat with the second wrap.

Fold ends over the row of avocado and tomato, then wrap snugly. Cut each in half crosswise. Serve at room temperature and eat out of hand.

Recipes by Course
Recipes by Main Ingredient
Recipes by Cuisine
Recipes by Preparation
Recipes by Occasion
Recipes by Dietary