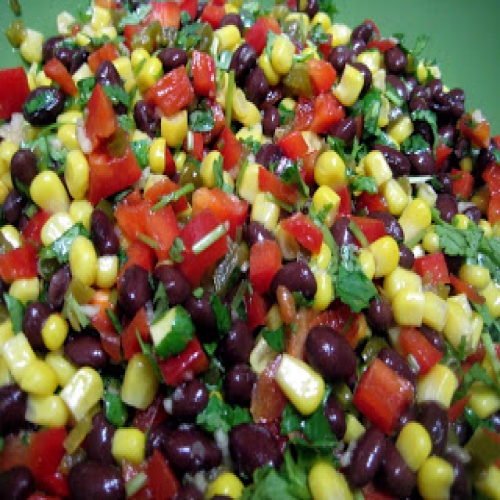 Prep Time:
Cooking Time:
Serves:
Category: Corn, Side Dishes, Black Beans
Ingredients List
1 can black beans
1 can corn
1 red bell pepper
cilantro
diced jalapeno peppers
2-4 garlic cloves
2 Tbsp olive oil
3 Tbsp lime juice
Directions
Start chopping!

Dice the red bell pepper into pieces the size of the corn and black beans.


I used about half a bunch of cilantro. Maybe more, maybe less.


I use a ton of garlic. I love it! Haha and I have a handy dandy garlic press from Pampered Chef that saves me some time. It's wonderful, really.


Throw all of your chopped goodness into a large bowl. Here we have the red pepper, cilantro, garlic, and diced jalapeno. You can use fresh or jarred jalapeno. I used the jarred stuff, obvi. Plus I found a jar of diced jalapenos so that saved chop time too. Woo! Oh, and I never measure the jalapenos, but I used at least 5 to 6tablespoons, maybe more? You be the judge.


Next, open the corn and black bean cans, drain and rinse them.

Throw the drained and rinsed corn and beans into the bowl with the chopped stuff and stir together.

Add the oil and lime juice and continue mixing. You want everything to be evenly distributed. At this point you can taste it and see if you want to add more jalapeno or lime juice or something.

Once you've achieved your desired taste, it's ready to chow down with some tortilla chips. Maybe even some guacamole if you have some. Yum, guacamole. I gotta make some of that soon.


This stuff is so good!! Pretty healthy too. I hope you try it and LOVE it!
Recipes by Course
Recipes by Main Ingredient
Recipes by Cuisine
Recipes by Preparation
Recipes by Occasion
Recipes by Dietary