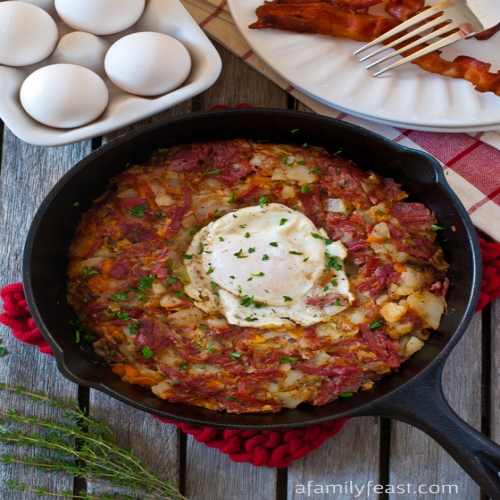 Prep Time:

30 Minutes

Cooking Time:

3 hours, 30 minutes

Serves:

8 Servings
Corned Beef Breakfast Hash
Recipe Submitted by

Stews

on

06/30/2014
Category: Picnic, Dinner Party, Beef, Healthy Recipes, Corn, Breakfast, Main Dish
Ingredients List
3 pounds uncooked corned beef (or 1 ½ pounds pre-cooked may be used)
1 carrot, washed and cut into four pieces
2 medium onions peeled, divided
2 leeks divided, tops cut off and washed of all sand *See note
1 stalk celery, cut in four pieces
4 whole peppercorns
8 slices uncooked bacon
2 medium Russet potatoes peeled and cut into 1 inch cubes
1 medium sweet potato, peeled and cut into 1 inch cubes
1 ½ tablespoons butter
¼ teaspoon garlic powder
1 teaspoon fresh parsley
1 teaspoon fresh thyme
½ teaspoon Worcestershire sauce
Dash sriracha or other hot sauce
1/8 teaspoon freshly grated nutmeg
Salt to taste
4 eggs
Directions
1. If you are using cooked corned beef, skip this step and go to step two.

2. In a large pot or Dutch oven, place raw corned beef and enough water to cover. Bring to a boil, shut off burner and discard liquid. This will lower the saltiness of the finished meat. Refill with clean water, add carrot pieces, one of the onions cut in half, one cleaned leek, tops removed and cut in half the long way, the celery pieces and the peppercorns. Bring back to a boil, cover partially and simmer for three hours. Check every hour and if too much water has evaporated, add more water. The liquid will be discarded at the end so just keep the meat covered with water during cooking. After three hours, discard liquid and vegetables and cool meat. This step can be done a day ahead.

3. Cook bacon until crisp. Reserve bacon fat and set aside the cooked bacon.

4. Place both diced potatoes into a pot and cover with water and a pinch of salt. Bring to a boil then shut off burner and let potatoes sit in hot water for ten minutes. Drain and set aside.

5. Dice second onion and white part of second leek to ½ inch dice. Place butter and one tablespoon of bacon fat in medium frying pan and place onions and leeks and sauté on medium for four to five minutes until the onions are translucent. Remove from heat.

6. In a large bowl, rough mash both potatoes with a potato masher (Do not over mash). Add cooked onions and leeks. Add garlic powder, parsley, thyme, Worcestershire sauce, hot sauce, nutmeg and mix.

7. On a cutting board, trim corned beef of top layer of fat then slice against the grain into thick one inch slices. Then with your hands, break up each slice into small to medium sized pieces and add to the bowl with the other ingredients. Mix until thoroughly combined. Because you are using corned beef (which can be salty), only add salt at this point if the mixture needs it. Let this mixture sit under refrigeration for an hour to blend flavors. At this point, you could freeze half and continue if you are making this for four instead of eight.

8. In a cast iron skillet or heavy bottomed pan over medium to medium high heat, add two tablespoons of the bacon fat until hot and the bowl of hash mixture (If your pan is not large enough, you may need to do this in two batches). Using a strong spatula, press mixture firmly down into the pan. Cook for five minutes or more to brown bottom and remove from burner (sneak a peek under one edge to make sure it is not getting overly browned). Make sure sides are not sticking and place a large plate, platter or cookie sheet over the pan and with caution, flip hash over onto plate or pan. Place fry pan back on the heat, add one more tablespoon of bacon fat until hot. Slide hash back into pan. At this point, don"™t fret if it"™s not perfect, after all this is hash and it is OK if the surface is not perfectly even and browned. While hash is browning on the second side, in a medium skillet with one tablespoon of bacon fat, cook four to eight eggs (one per person) to over easy or your preference.

9. To serve, divide into four to eight portions, slide a spatula under each portion and slip onto a serving dish. Place a cooked egg over each portion. We served ours with a cooked buttered English muffin and a nice hot cup of steaming coffee.
Recipes by Course
Recipes by Main Ingredient
Recipes by Cuisine
Recipes by Preparation
Recipes by Occasion
Recipes by Dietary