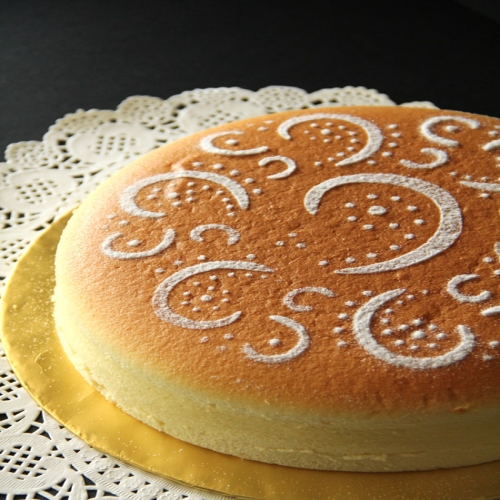 Prep Time:
Cooking Time:
Serves:
Cotton Soft Japanese Cheesecake
Recipe Submitted by

Stews

on

06/20/2014
Category: Kids, Dinner Party, Holiday, Japanese, Cakes, Cheesecakes
Ingredients List
140g/5 oz. fine granulated sugar
6 egg whites
6 egg yolks
1/4 teaspoon cream of tartar
50g/2 oz. butter
250g/9 oz. cream cheese
100 ml/3 fluid oz. fresh milk
1 tablespoon lemon juice
60g/2 oz. cake flour /superfine flour
20g/1 oz. cornflour (cornstarch)
1/4 teaspoon salt
Directions
1. Melt cream cheese, butter and milk over a double boiler. Cool the mixture. Fold in the flour, the cornflour, salt, egg yolks, lemon juice and mix well.

2. Whisk egg whites with cream of tartar until foamy. Add in the sugar and whisk until soft peaks form.

3. Add the cheese mixture to the egg white mixture and mix well. Pour into a 8-inch round cake pan (lightly grease and line the bottom and sides of the pan with grease-proof baking paper or parchment paper).

4. Bake cheesecake in a water bath for 1 hours 10 minutes or until set and golden brown at 160 degrees C (325 degrees F).

***********************************************************************************************************
Cook"™s Notes:

1. I baked the cake in 9" round tin, did not line the sides.

2. If you use a 8"³ pan, it is very important to line the sides of the 8" pan with parchment paper, make sure the parchment paper extends higher than the cake tin by about 1.5".

3. If springform pan or loose base cake tin is used, wrap the base of your cake tin with 2 layers aluminium foil, to prevent seepage.

4. I baked the cake on the lowest shelf in the oven ( to prevent cracks on top and over browning).

5. I left the cake to cool down in the oven with the oven door open, about an hour. This is to prevent sudden change of temperature that may cause the cake to shrink drastically. It"™s normal that the cake will shrink about ½" after cooling.

6. Refrigerate the cake (with or without the cake tin) for at least 4 hours or overnight.
Recipes by Course
Recipes by Main Ingredient
Recipes by Cuisine
Recipes by Preparation
Recipes by Occasion
Recipes by Dietary