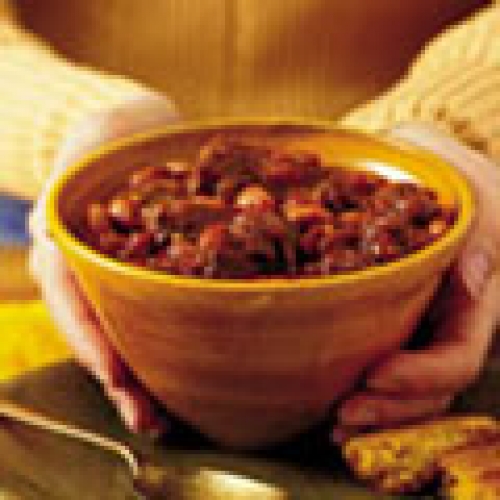 Prep Time:
Cooking Time:
Serves:

6 cups
Ingredients List
1 tablespoon(s) vegetable oil
1 pound(s) boneless chuck or rump roast, cut into 1/2-inch cubes
1 large (about 2 cups) onion, chopped
6 clove(s) garlic, minced
2 can(s) (14 1/2-ounce) low-sodium beef broth
1 tablespoon(s) chili powder
1 teaspoon(s) cumin
1 can(s) (14 1/2-ounce) diced low-sodium tomatoes
2 dried ancho chiles
1 tablespoon(s) masa harina de maiz
1 cup(s) water
2 can(s) (15 1/2-ounce) pinto beans, rinsed and drained
1/2 teaspoon(s) salt
1 tablespoon(s) cider vinegar
Directions
1. Brown the meat: In a large Dutch oven, add oil and heat over medium-high heat. Once oil is hot but not smoking, add beef and cook until browned -- about 5 minutes. Remove beef, set aside, and reduce heat to medium.
2. Make the chili: Add onion to the Dutch oven and sauté until translucent -- 3 to 5 minutes. Add garlic and cook 1 more minute. Return the meat to the Dutch oven. Gradually add 1 can beef broth and deglaze by scraping up the brown bits from the bottom of the Dutch oven. Add chili powder, cumin, and tomatoes. Reduce heat to medium low, cover, and simmer for 1 hour.
3. Puree the chiles: In a small saucepan over high heat, bring the remaining can of beef broth to a boil. Add ancho chiles and let stand 15 minutes to hydrate. Remove and discard stems. Place chili mixture and liquid in a blender or food processor and blend until smooth -- 2 to 3 minutes.
4. Finish the chili: In a small bowl, whisk the masa and water together. Stir masa mixture into the chili. Add ancho chili mixture, pinto beans, salt, and vinegar. Simmer uncovered for 15 minutes. Serve hot.

Recipes by Course
Recipes by Main Ingredient
Recipes by Cuisine
Recipes by Preparation
Recipes by Occasion
Recipes by Dietary