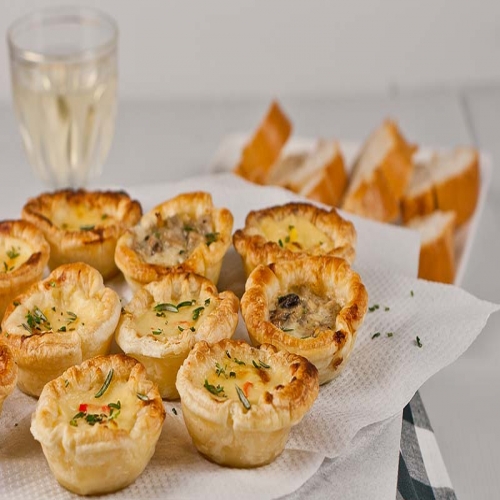 Prep Time:
Cooking Time:
Serves:
Ingredients List
Savory short pastry
1 tbsp flour
1 tbsp butter
Milk
1 red chili, chopped finely
1 inch knob of fresh ginger, grated
1 garlic, crushed
1 can of crabmeat
½ a wedge of bri
Directions
1. Turn the oven on to 180°C/350°F.

2. Oil 12 deep muffin cups

3. Cut out circles from the pastry and line the cups with them.

4. Blind bake them for 10 minutes.

5. Melt the butter in a saucepan and add the chili, garlic and ginger. Cook for 1 minute.

6. Add the flour and stir well to form a stiff paste.

7. Bit by bit add milk, making sure with each addition that it is incorporated well before adding the next lot.

8. When the sauce is the consistency of thick cream, add the crab and brie. Stir until the cheese is melted. Season to taste.

9. Spoon into the semi-cooked pastry cups and replace them in the oven for another 10-15 minutes.

Recipes by Course
Recipes by Main Ingredient
Recipes by Cuisine
Recipes by Preparation
Recipes by Occasion
Recipes by Dietary