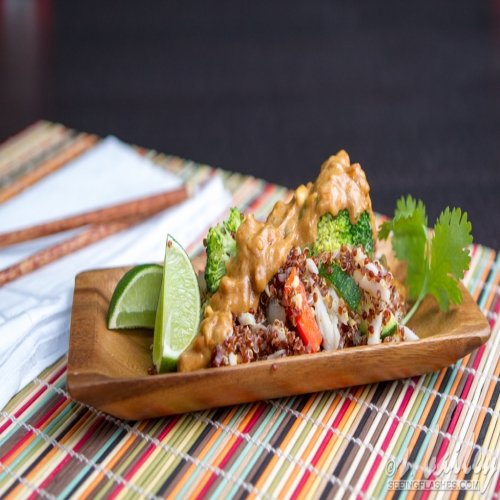 Prep Time:
Cooking Time:
Serves:

6- servings
Crab Fried Quinoa with Spicy Peanut Sauce
Category: Healthy Recipes, Eggs, Sauces
Ingredients List
For the Crab Fried Quinoa:
1 cup quinoa
1 tbs canola oil
3-4 cloves garlic, finely chopped
1 yellow onion, thinly sliced
2 eggs
1 zucchini, chopped
1 red bell pepper, chopped
1 1/2 cups broccoli florets
1 tbs reduced sodium soy sauce
pinch ground ginger
1/2 lb crab meat (I used imitation""it"™s super inexpensive and still delicious)
extra cilantro for topping (optional)
For the Spicy Peanut Sauce:
1/2 cup peanut butter (I used chunky)
3 tbs unsweetened almond or coconut milk
2-3 tbs reduced sodium soy sauce (use gluten-free if applicable)
2 tbs fresh lime juice
1 tbs red chili paste
handful fresh cilantro,finely chopped
Directions
1. Cook quinoa to package instructions.

2. While quinoa is cooking, prepare the sauce by warming peanut butter and milk in a medium microwave safe bowl for 10-15 seconds. Whisk in all remaining sauce ingredients and set aside.

3. In a large wok pan over medium heat, sautee garlic and onion in canola oil until golden and fragrant""about 5 minutes. Add eggs stirring constantly to scramble. When eggs have reached scrambled egg consistency, add remaining vegetables, soy sauce and ginger. Cook for 10 minutes.

4. Add cooked quinoa and crab meat. Cook for an additional 5 minutes, tossing constantly to combine.

5. Serve topped with spicy peanut sauce and cilantro.

Recipes by Course
Recipes by Main Ingredient
Recipes by Cuisine
Recipes by Preparation
Recipes by Occasion
Recipes by Dietary