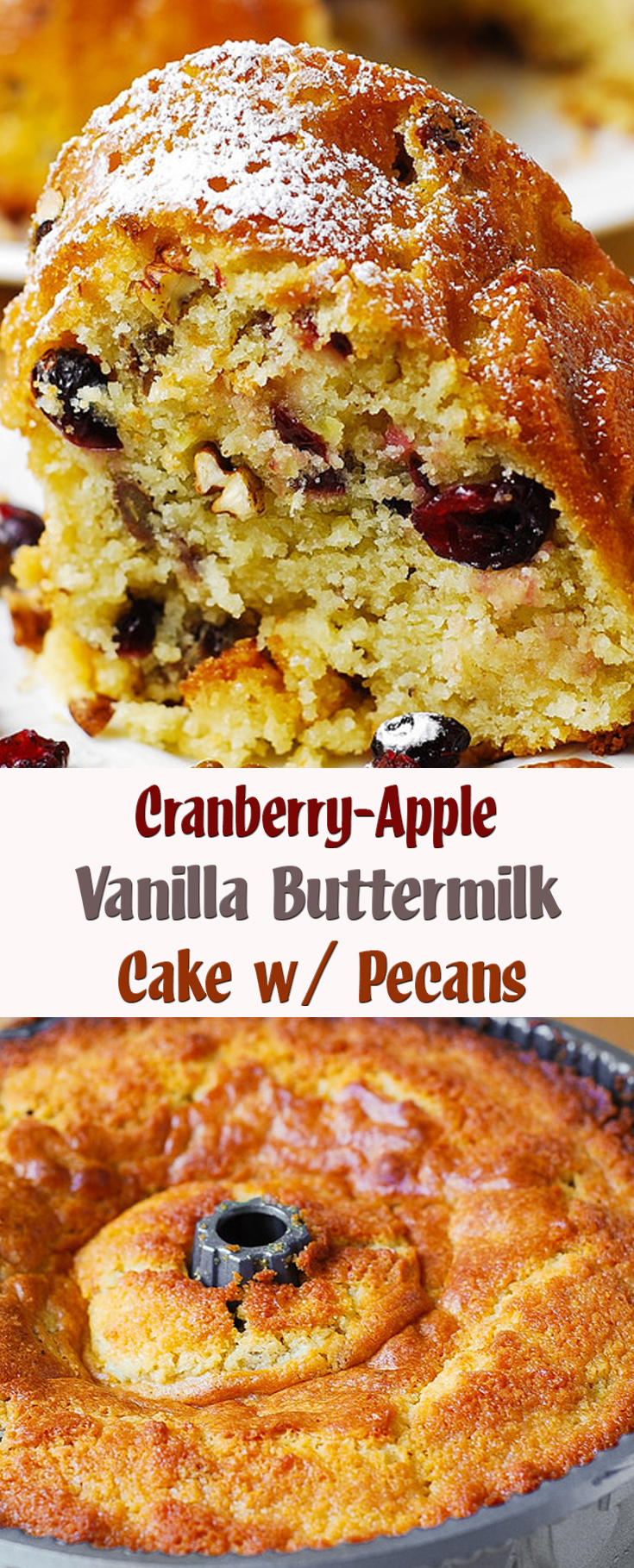 Prep Time:

20 minutes

Cooking Time:

40 minutes

Serves:

12
Cranberry-Apple Vanilla Buttermilk Cake with Pecans
Recipe Submitted by

maryjosh

on

12/14/2016
Ingredients List
2 and 1/2 cups all purpose flour
2 teaspoons baking powder
1/4 teaspoon salt
3/4 cup unsalted butter, room temperature softened
1 and 3/4 cups granulated sugar or cane sugar
3 large eggs
2 teaspoons vanilla extract
1 cup buttermilk
1 cup dried cranberries
1 Fuji apple, cored, peeled, and cubed
1 cup pecans, chopped
powdered sugar (for decorating)
Directions
Special equipment: Use the bundt pan that measures 9 inches in diameter and holds 10 to 12 cups.
Preheat oven to 350 F.
Soak 1 cup of dried cranberries in 1 cup of boiling-hot water, covered.
In a medium bowl, combine 2 and 1/2 cups flour, baking powder and salt.
In a separate large bowl, add together the softened butter and sugar and mix, using mixer, on high setting for about 3 minutes until even consistency is reached.
Add 3 eggs and 2 teaspoons of vanilla extract to the butter-sugar mixture and continue beating until well-incorporated and light in color.
Now we'll be adding flour mixture into the butter-sugar mixture in 3 gradual steps, instead of dumping all of flour at one time. If you dump all of flour mixture into your butter mixture at one time, it will be more difficult to stir and you won't get a smooth texture. So, we'll be adding flour and buttermilk in 3 additions:
With your mixer on low speed, add 1/3 of flour mixture to butter-sugar mixture, beating just a little until all is well combined. Then follow by 1/3 cup of buttermilk. Add the second 1/3 of flour mixture, beating with mixer just to combine. Follow by the second 1/3 cup of buttermilk, beating just to combine. Finally, add the third 1/3 of flour mixture, followed by the final 1/3 cup of buttermilk. Again, beat just enough to combine.
Make sure to have your mixer on low speed while adding flour, otherwise flour might fly around your kitchen. Make sure to not overmix or overbeat, use mixer just to combine the ingredients.
Drain the dried cranberries that you soaked in hot water and wring the water out of them. Dried cranberries now should be plump and juicy - it's OK if they retain some water.
Using spatula, fold in these dried cranberries (after you soaked them and drained them), chopped apple, and chopped pecans into the cake batter.
Spray your cake pan with a Baking Spray with Flour (it's a special spray that already has flour in it). The proper way to do it is to hold the spray vertically, and spray your clean and dried bundt pan along the top edges of the pan, going all the way to the bottom. Spray every single little detail, especially if your bundt pan has lots of fine detail.
Pour batter gently into prepared bundt pan. Place the baking sheet in the preheated oven, and put the bundt pan on top. This ensures that if you have a bundt pan with edges like mine, the pan doesn't slant.
Bake at 350 F for about 1 hour, until toothpick comes out clear. Remove the pan from the oven, let it cool for 40 minutes on wire rack.
And here are the tips on releasing the cake from the bundt pan:
First of all, you should always use the Baking Spray with Flour and generously spray it all over inside your bundt pan before pouring the batter.
After your bundt cake is done baking, and the bundt pan cooled off for 40 minutes on the counter, place the bundt pan in the freezer for 20 minutes - it will still be quite hot to the touch (even after 40 minutes of cooling), so use kitchen gloves to handle the pan.
Remove the pan from the freezer after 20 minutes, invert the bundt pan onto a serving plate, and let it sit inverted for a bit to let the gravity do the work (it could take as little as half a minute or as long as 20 or even 30 minutes, depending on your bundt pan). Then, gently lift bundt pan and your cake should be released. Sometimes, you will actually hear your cake release. Be patient.
Sprinkle the cake with powdered sugar before serving.
Recipes by Course
Recipes by Main Ingredient
Recipes by Cuisine
Recipes by Preparation
Recipes by Occasion
Recipes by Dietary