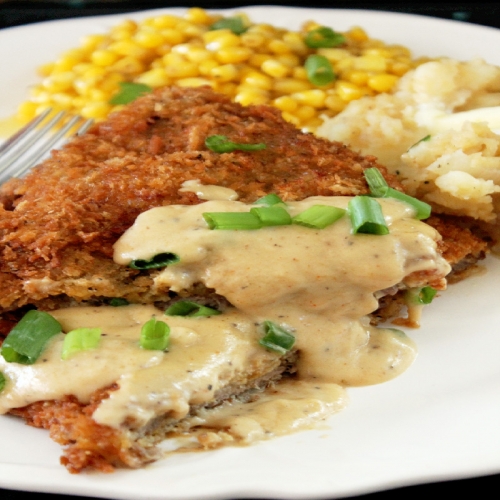 Prep Time:

5 minutes

Cooking Time:

20 minutes

Serves:

4 servings
Creamy Gravy Chicken Fried Steak
Category: Healthy Recipes, Main Dish, Chicken
Ingredients List
4 beef tenderloin steaks, 1 1/2 inch thickness
1 tablespoon olive oil
1/2 tablespoon creole seasoning
2 teaspoons black pepper
2 teaspoons garlic powder
2 teaspoons onion powder
1 teaspoon paprika
cooking oil
For the Dredging Station:
3 cups Panko bread crumbs
3 cups flour
4 eggs, beaten
2 teaspoons creole seasoning
2 teaspoon black pepper
2 teaspoons garlic powder
2 teaspoons onion powder
For the Creamy Gravy:
3 cups beef broth, low sodium
1/2 cup heavy cream
3 tablespoons flour
2 tablespoons olive oil
2 tablespoons butter
2 teaspoons black pepper
2 teaspoons creole seasoning
2 teaspoons garlic powder
2 teaspoons onion powder
dash of hot sauce
For the Creole Corn:
4 cups corn, organic
2 teaspoons creole seasoning
2 teaspoons garlic powder
2 teaspoons onion powder
2 teaspoon black pepper
2 tablespoons butter
2 tablespoons olive oil
1 garlic clove, minced
For the Creamy Potatoes:
4 large potatoes, peeled, diced
1 stick of butter, unsalted
1/4 cup heavy cream
2 teaspoons creole seasoning
2 teaspoons garlic powder
2 teaspoons onion powder
2 teaspoons black pepper
1 clove of garlic
Directions
1. To prepare the steaks rinse and pat dry.
2. Place steaks in a bowl and top with olive oil and seasonings mix well and set aside.

To Prepare the Potatoes:

3. Peel potatoes and diced into 1/2 inch chunks, place in potatoes and garlic clove in a pot covered with water.
4. Bring to boil and cook about 7-8 minutes are until potatoes are tender.
5. Drain potatoes and garlic, place back into pan, add butter, cream, and seasonings and mash.
6. To Prepare Creole Corn:
7. Place olive oil and butter into a skillet over medium heat, add corn, spices, and garlic and cook about 5-7 minutes until corn is tender.
8. To Prepare Creamy Gravy:
9. Add butter and olive oil to pan, whisk in flour for about 2 minutes, add spices and broth, mix well, bring to boil, reduce heat, stir in cream and hot sauce, simmer for about 5 minutes.
10. Add more broth for thinner gravy if desired.
11. To Prepare the Steak Dredging Station:
12. In 3 separate bowls add panko, beaten eggs, and flour.
13. Mix seasoning blend and divide between the three bowls and mix well.
14. Dip steak into flour, coating well, shake off excess flour, place into egg, coat well and let excess egg drip off, place into panko, coat well and press panko lightly into steak, repeat with all steaks.
15. To Fry Chicken Fried Steak:
16. Heat cooking oil to 365 degrees in a large skillet about 2 inches deep full of cooking oil.
17. Place steaks into pan, maybe two at a time and fry for about 3 minutes per side or until steak is golden brown.
18. Remove from oil, drain on paper napkins and repeat with remaining steaks.
19. Serve steak with corn and potatoes, top with gravy and garnish with green onions.
Recipes by Course
Recipes by Main Ingredient
Recipes by Cuisine
Recipes by Preparation
Recipes by Occasion
Recipes by Dietary