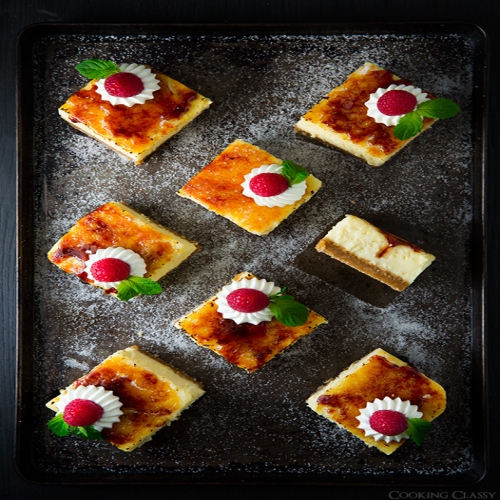 Prep Time:
Cooking Time:
Serves:

9-12 bars
Creme Brulee Cheesecake Bars !!enjoy!!
Category: Holiday, Kids, Cheesecakes
Ingredients List
Crust
1 1/4 cups finely crushed graham cracker crumbs (from 9 sheets)
2 Tbsp granulated sugar
6 Tbsp butter, melted (preferably salted)
Cheesecake filling
3/4 cup granulated sugar
1 1/2 Tbsp all-purpose flour
2 (8 oz) pkgs cream cheese, softened
3 large eggs
3 Tbsp heavy cream
3 Tbsp sour cream
1 tsp vanilla extract
Topping
6 Tbsp granulated sugar
Whipped cream, fresh raspberries and fresh mint for garnish (optional)
Directions
For the crust:

1. Preheat oven to 350 degrees. Generously butter an 8 by 8-inch baking dish. In a mixing bowl, whisk together graham cracker crumbs and sugar. Pour in butter and use a fork to mix until evenly moistened. Press mixture into an even layer in prepared baking dish and bake in preheated oven for 10 minutes. Remove from oven and allow to cool while preparing filling. Reduce oven temperature to 325 degrees.

For the filling:

2. In a mixing bowl, whisk together 3/4 cup granulated sugar with the flour. Add cream cheese to mixing bowl and using an electric hand mixer set on low speed, blend together cream cheese and granulated sugar mixture just until smooth, about 1 minute. Add in eggs one at a time and mix just until combined after each addition. Add heavy cream, sour cream and vanilla and blend just until combined. Tap bowl forcefully against countertop about 30 times to release air bubbles. Butter the side of the baking dish and pour filling over crust. Set the 8 by 8-inch baking dish into a 13 by 9-inch baking dish (a roasting pan would be fine too) and pour about 3 cups of hot water into the 13 by 9-inch baking dish (or enough water to make the water level reach halfway up the sides of the 8 by 8-inch dish. You are only pouring the water into the pan without the cheesecake in it, simply to create a water bath which will help the cheesecake cook more evenly and reduce the possibility of cracking). Bake in preheated oven until cheesecake is fairly jiggly, about 42 - 45 minutes, then turn oven off and allow cheesecake to rest in warm oven with door closed about 10 minutes longer or until center only slightly jiggles. Remove from oven and allow to cool on a wire rack at room temperature 1 hour, then cover and chill 4 hours.

For the topping:

3. Cut bars into squares. Sprinkle each square with an even layer of sugar and melt sugar with a culinary torch (it will melt into beads then bubble, then caramelize and turn to a smooth surface). Allow topping to cool then pipe or spoon a small dollop of whipped cream over top, then add a raspberry and garnish with mint (garnish just before serving and melt sugar within several hours of serving for best results). Store in refrigerator in an airtight container.
Recipes by Course
Recipes by Main Ingredient
Recipes by Cuisine
Recipes by Preparation
Recipes by Occasion
Recipes by Dietary