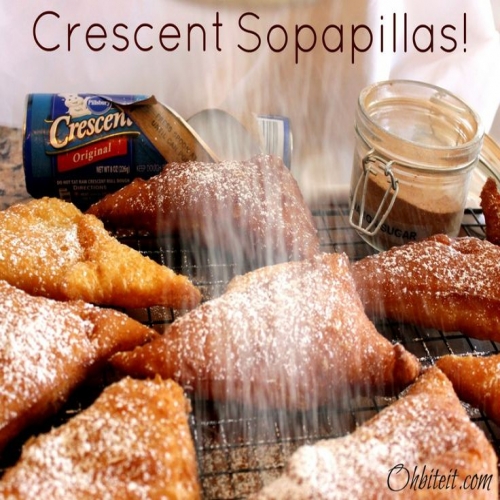 Prep Time:
Cooking Time:
Serves:
Category: Main Dish, Lunch/Snacks
Ingredients List
1 tube of Pillsbury Crescent Rolls
Approx. 4 cups of oil for frying
Powdered Sugar/Honey/Cinnamon Sugar..optional
Directions
In a medium pot, heat up your oil..it should be about 3"³ deep, with lots of room for expansion when it gets hot!

Pop open the tube of Crescents..

Have a mini-heart attack when it pops! ;)

Slice them at their perforation to separate

Fry them up one at a time, until they"™re golden on both sides. You can flip them carefully with a fork or some lonely old Chopsticks.

Drain them on some paper towel & let them cool slightly on a rack before you tear into them! :)

But..definitely serve them warm, with a drizzle of Honey..

..and some Cinnamon Sugar..oh and some Powdered Sugar too! Then sink your teeth into the easiest & tastiest Sopapilla ever! ~Enjoy!
Recipes by Course
Recipes by Main Ingredient
Recipes by Cuisine
Recipes by Preparation
Recipes by Occasion
Recipes by Dietary