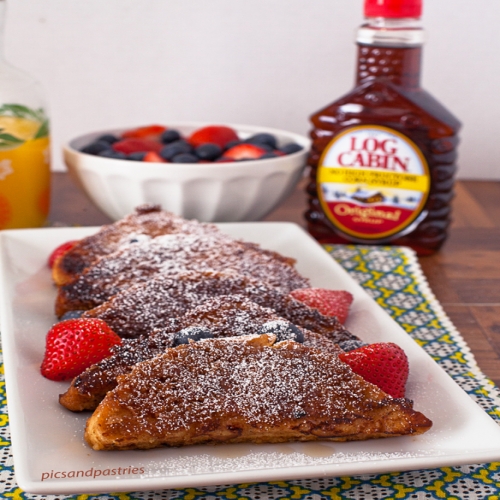 Prep Time:
Cooking Time:
Serves:
Category: Breakfast, Lunch/Snacks
Ingredients List
8 slices of hearty bread. I used Texas-Toast but Challah would be good too
1 1/2 cups whole milk, warmed
3 large eggs
3 tablespoons packed light brown sugar, plus 1 for the crumb mixture
2 tablespoons unsalted butter, plus 2 tablespoons melted butter
1 tablespoon vanilla extract
1/2 teaspoon ground cinnamon, plus 1/4 teaspoon for the crumb mixture
1/4 teaspoon salt
Directions

Warm oven to 300 degrees.
Cut slices of bread in half.
Place on a baking sheet and place in a warmed oven.
Bake bread until almost dry throughout. The center should remain slightly moist.
Flip bread halfway, total time will vary but should be about 15 minutes.
Remove from oven and let cool.



-------------- For the crumb mixture -----------------

Use one slice of bread torn into pieces and place in a food processor bowl and add 1 tablespoon brown sugar and 1/4 teaspoon cinnamon. Pulse until finely ground. Place in a bowl that the bread slices will fit into.
Whisk milk, egg, sugar, 2 tablespoons melted butter, vanilla, cinnamon and salt into a large bowl until well blended. Transfer mixture to a 13x9 pan.
Soak bread in milk mixture until saturated but not falling apart, about 20 seconds, per side.
While bread is soaking, melt butter in a medium skillet.
Once bread has soaked, place one side of the soaked bread into the crumb mixture and gently press down to allow the side touching the crumbs to get evenly coated.
Place crunchy side down into melted butter and allow it to get golden brown. About 3-4 minutes, use spatula to gently lift and make sure it does not burn.
Flip over and allow the other side to get golden brown.
Transfer to baking sheet and place in oven to keep warm until all the slices are toasted.
More butter will need to be re added to the skillet for the other slices to get golden brown.
Recipes by Course
Recipes by Main Ingredient
Recipes by Cuisine
Recipes by Preparation
Recipes by Occasion
Recipes by Dietary