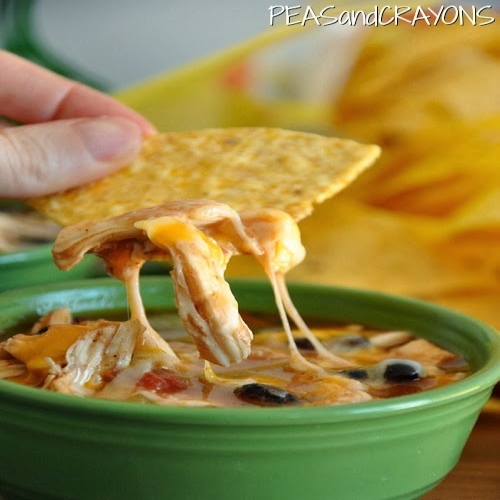 Prep Time:
Cooking Time:
Serves:
Crock-pot Chicken Tortilla Soup-3
Recipe Submitted by

Absinthe

on

08/26/2014
Category: Crockpot, Chicken, Soups
Ingredients List
6 cups of low-sodium vegetable broth [or chicken broth!]
1 cup canned crushed tomatoes [Muir Glen's BPA-free variety rocks!]
1/4-1/2 cup tomatillo salsa verde
3 TBSP tomato paste
2 TBSP olive oil
3 cups black beans [cooked or canned]
1-2 cups pinto beans [cooked or canned]
3 boneless, skinless chicken breasts
4 small corn tortillas, torn into small pieces
2 small onions [approx 2 cups]
2 jalapenos [seeds and veins removed]
1 large bell pepper
juice of 1/2 a fresh lime
2-4 TBSP fresh cilantro
1 tsp chili powder
1 tsp garlic powder
1 tsp cumin
1/2 tsp cayenne pepper
salt, to taste [amount added will vary on sodium content of broth and tomatoes/beans]
shredded mexican cheese blend
crunchy tortilla chips
Directions
Depending on the chaos-factor of your lifestyle, you can prep the chopped ingredients and measure everything out ahead of time and store it in the fridge until you"™re ready to fire up the slow cooker, or simply whip the entire thing up on the fly. I cook a huge batch of beans in the slow cooker early on in the week [like this] so I can make this soup [along with a few other favorite recipes] all week long. It"™s a lifesaver! The great thing about slow cooker soups, especially tortilla soup, is how flexible it is. I use it to empty out my crisper drawer on a regular basis and love how it can rescue veggies that are about to wind up a forgotten mess in the back of my fridge. The recipe above is the all-time favorite combination of ingredients and the one my friends and family go ape over!


no crock-pot? no problem! Boil the chicken breasts in the broth, chop and shred once tender, and then return to the pot to add the remainder of your ingredients. You"™ll want to simmer it for a while to cook the onions and peppers to tender perfection or you can saute them on the side and then add them to your pot of yum. If you have any stove-top conversion questions feel free to ask a question in the comment section below or shoot me an email! xoxo
Essentially you"™re going to toss everything in and walk away, but because I like to explain the methods to my madness I"™ll go into a bit more detail for ya:


Turn your slow cooker to high and add broth, crushed tomatoes, tomato paste, tomatillo salsa, beans and chicken breasts, whole. Next dice your bell pepper, jalapeno, and onion and tear your corn tortilla into small pieces before tossing them into the pot as well. The corn tortillas help the soup to thicken a bit and also act as noodles! Add your seasonings, fresh cilantro, and lime juice and cover. Within a few hours the chicken breasts should be juicy and perfectly cooked, if you happen to be around, feel free to scoop them out with tongs or a fork, place them on a cutting board, and chop each breast into six large pieces. Now it"™ll shred oh-so-easily! Use two forks to create pulled/shredded chicken and add it back to your slow cooker. If you aren"™t home yet you can complete this step once you return. No worries!
The soup will simmer away on high for four-six hours [total time] and make your kitchen smell absolutely divine. Steal a taste towards the end and add any extra spices or add-ins that float your boat. I typically add a little extra chili and garlic powder and a little fiery cayenne depending on my mood. You may want to add salt or might find that there was enough in your beans/tomatoes/broth to start and leave it as is! Since I add crushed tortilla chips to my final product I only add a pinch of salt to the entire pot. The chips add it in at the end and create the perfect ratio for me! As noted above you can add more broth or keep the soup nice and chunky. I love mine super-hearty so I can attack it with the tortilla chips and a small mountain of grated cheese and scoop up the soup nacho-style. Hot soup, melty cheese, and crunchy tortilla chips"¦ I"™m swooning again just thinking about it. Clearly it"™s time to make another pot!

Top with your choice of toppings and dig in! It tastes great right away and even better the following day! You can keep the soup in an airtight container in your fridge for up to four days or stash it away in the freezer for a cold, rainy day. Enjoy!
Recipes by Course
Recipes by Main Ingredient
Recipes by Cuisine
Recipes by Preparation
Recipes by Occasion
Recipes by Dietary