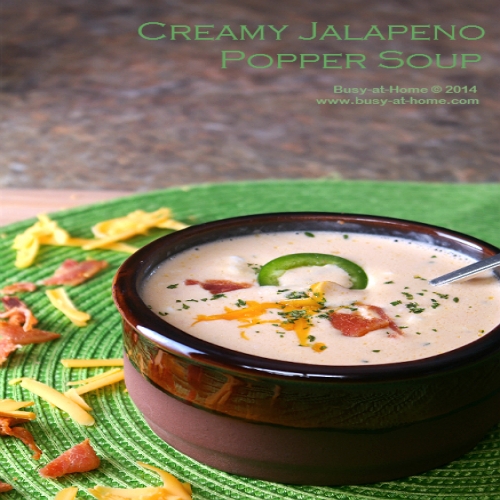 Prep Time:
Cooking Time:
Serves:
Crumbled bacon Creamy Jalapeno Popper Soup
Category: Healthy Recipes, Soups
Ingredients List
12 oz. Kraft Extra Sharp Cheddar Cheese, coarsely grated
8 oz. Kraft Monterey Jack Cheese, coarsely grated
8 oz. PHILADELPHIA Brand Cream Cheese
6 cups homemade (or other high quality) chicken stock
2 cups heavy cream
1 large red bell pepper, finely minced
1/2 medium red onion, finely minced
4 jalapeno peppers, finely minced
8 slices Oscar Mayer Butcher Cut Bacon
optional, garnish ideas: sour cream, parsley, cilantro, shredded cheddar, crumbled bacon
Directions
1. Place the bacon on a baking sheet and bake at 350 degrees for 20-25 minutes, until the bacon is crispy. Remove from oven and drain on paper towels. Set aside for later.
2. While the bacon cooks, wash and mince the bell pepper, jalapenos and onion. (Be sure to use gloves when working with the jalapenos. Most of the heat will come from the seeds and veins of the jalapenos. Remove or leave in as many as suit your personal tastes. I seeded and de-veined 2 1/2 of the peppers and left the seeds and veins in 1 1/2. It was the perfect spicy kick for our tastes.)
3. Place the minced veggies and chicken stock in a large soup pot. Use a really good and flavorful chicken stock. I used my own homemade bone broth, but if you don't have homemade, be sure you purchase high-quality stock. A good deal of your soup's flavor will come from it.
4. Heat the chicken stock and veggies to a boil and then reduce heat to a simmer. Allow to continue simmering, about 10 minutes. Veggies will still be bright and colorful, but beginning to soften slightly.
5. Grate the Cheddar and Monterey Jack cheeses. Cut the cream cheese into 1" cubes.
6. Add Cheddar, Monterey Jack and cream cheese to the broth and veggies. Continue to simmer over low heat, stirring until cheese is melted and combined. (As with all cream or cheese soups, overcooking and too high a temperature can lead to curdling or separating, so don't let the soup boil, once the cheese has been added. )
7. Add the heavy cream and continue cooking over low heat, until the soup is heated through. Remove from the heat.
8. Crumble 5 slices of bacon and stir into the soup.
9. Crumble the other 3 slices and use to garnish individual bowls of soup.
10. I placed a small dollop of sour cream in the center of each bowl, then added a few shreds of Extra Sharp Cheddar, some bacon crumbles, minced parsley and a thin jalapeno slice. You can dress it up or eat it plain, as you prefer. It will rock your quick supper world, either way!
11. Enjoy!
Recipes by Course
Recipes by Main Ingredient
Recipes by Cuisine
Recipes by Preparation
Recipes by Occasion
Recipes by Dietary