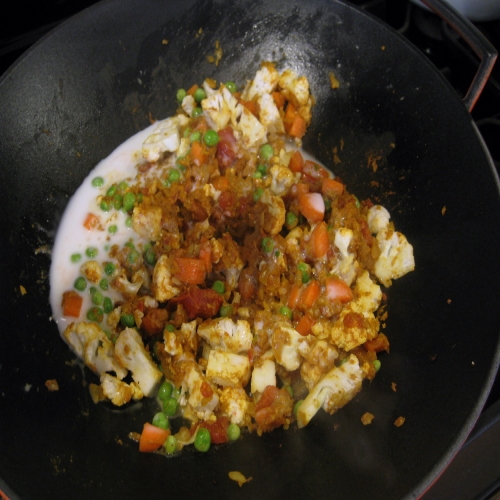 Prep Time:
Cooking Time:
Serves:
Curry Fried Rice with Hard-Boiled Eggs.
Category: Healthy Recipes, Tomatoes, Eggs, Rice
Ingredients List
1 tablespoon canola oil or coconut oil
1 small yellow onion, chopped
2 cloves garlic, chopped
2"³ piece ginger root, peeled and chopped
1 Thai chile (optional), chopped
2 tablespoons curry powder
1 teaspoon ground cumin
1 teaspoon kosher salt
¼ teaspoon palm sugar (or brown sugar)
½ cup diced tomatoes with juice (or 1 medium tomato chopped)
1 large carrot, peeled, halved and sliced into ½" half-moons (approx 1 cup)
½ head cauliflower, cut into small pieces (approx 2 cups)
½ cup frozen organic peas
½ cup light coconut milk
4 cups cooked brown rice, cooled
1 tablespoon soy sauce or tamari
cilantro, coarsely chopped
5 hard boiled eggs, peeled and sliced
Directions
1. I used the food processor to save time. Place garlic in bowl, process until chopped and add ginger. Next add onion and chili.

2. Pulse until just chopped. Set aside.

3. Peel carrot, halve and cut into ½" half-moons.

4. Cut cauilflower into small bite sized pieces. Measure peas, combine and set aside.

5. Combine curry powder, cumin, salt and sugar in a small dish. Coarsely chop cilantro, measure tomatoes, coconut milk, soy sauce and oil.

6. Notice the large ziploc bag with cauliflower? Since the recipe only calls for half a head of cauliflower, I still cut up the other half and am setting it aside to use for tomorrow nights dinner. See notes section for ideas!

COOK:

1. Heat very large frying pan or Wok over high heat. Once hot, add oil. Add in onion mixture and cook for 2 to 3 minutes, stirring frequently, until soft.

2. Add spices and cook, stirring constantly, for 30 seconds.

3. Next add in tomatoes, stir to combine. Lower heat to medium.

4. Toss in veggies and coconut milk. Stir to combine, cover and cook 5 to 7 minutes until veggies are just soft.

5. Remove lid, add rice and soy sauce, toss to coat.

6. Cook 2 to 4 more minutes, tossing, until more liquid is evaporated.

7. Serve with hard boiled egg and freshly chopped cilantro. Enjoy!



Recipes by Course
Recipes by Main Ingredient
Recipes by Cuisine
Recipes by Preparation
Recipes by Occasion
Recipes by Dietary