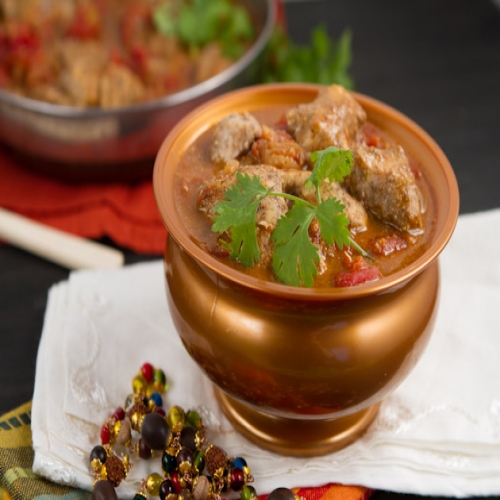 Prep Time:

30- minutes

Cooking Time:

40-minutes

Serves:

4-servings
Dairy-free Butter Chicken
Category: Dinner Party, Main Dish, Peppers, Tomatoes, Chicken
Ingredients List
Tandoori Marinade:
¼ cup lite coconut milk
Juice from ½ lemon
2 teaspoons minced garlic
2 teaspoons grated fresh ginger root
2 teaspoons ground cumin
½ teaspoon ground coriander
¼ teaspoon cayenne pepper
â…› teaspoon ground cloves
â…› teaspoon fresh-ground black pepper
Pinch sea salt
Pinch ground cardamom
Butter Chicken Gravy:
1 tablespoon extra-virgin olive oil
1 cup chopped yellow onion
2 teaspoons minced garlic
1 tablespoon grated fresh ginger root
1 teaspoon garam masala
1 teaspoon ground cumin
½ teaspoon chili powder
1 bay leaf
28 oz. canned diced tomatoes
1 gluten-free chicken bouillon cube + 1 cup warm water
¼ cup lite coconut milk
Juice from ¼ lemon
1 tablespoon coconut sugar
¼ teaspoon sea salt
¼ teaspoon freshly ground black pepper
1 tablespoon minced fresh cilantro
1 tablespoon ground cashews or almond flour
Directions
1. Place cubed chicken in a glass container. Set aside.

2. Combine marinade in a small bowl. Stir to combine and pour over top of the chicken. Mix with a spoon, seal with a lid, and marinate in the fridge for 8-24 hours. The longer you marinade the better but do not exceed 48 hours.

3. The next day, preheat oven to 375F and line a baking sheet with parchment paper or a silicon baking mat. Place marinated chicken on sheet, spreading out so that they cook evenly. Bake in the preheated oven for 15-17 minutes, until internal temperature reaches 170F. Remove from the oven and allow to sit.

4. Meanwhile, prepare butter chicken gravy by sautéing the oil, onion and garlic in a medium-sized saucepan over medium-high heat for 10 minutes until onion is brown.

5. Add ginger, garam masala, cumin, chili powder and bay leaf. Cook for 1 minute.

6. Add diced tomatoes, chicken bouillon cube, water, coconut milk, lemon juice, coconut sugar, salt, and pepper. Cover and bring to a boil. Reduce heat and simmer for 15 minutes.

7. Add cooked chicken, cilantro and almond flour (to thicken), remove bay leaf, and serve.
Recipes by Course
Recipes by Main Ingredient
Recipes by Cuisine
Recipes by Preparation
Recipes by Occasion
Recipes by Dietary