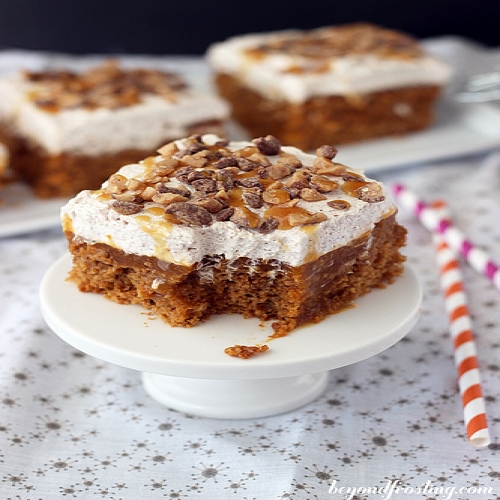 Prep Time:
Cooking Time:
Serves:
Ingredients List
For the cake:
1 box Spice cake mix
1 pkg Instant pumpkin spice pudding (3.4 0z)
1 tsp Cinnamon
1/2 tsp Pumpkin pie spice
3 Large eggs
1/2 C oil
3/4 C Milk
1/2 C Sour Cream
For the pudding:
2 pkg Instant pumpkin spice pudding (3.4 0z)
4 C Milk
For the Whipped Cream:
2 C Heavy whipping cream
3 tbsp Pure maple syrup
2 tsp Cinnamon
3/4 C Health Milk Chocolate Toffee bits
Directions
1. Preheat oven to 350° F.
2. Prepare the cake first. Mix all dry ingredients in your mixing bowl and mix slightly to combine.
3. Add eggs, oil, milk and sour cream. Beat on medium speed until well combined.
4. Bake cake for 18-22 minutes until golden brown on top.
5. Check for doneness by inserting a toothpick in the middle of the cake. If the toothpick comes out clean, your cake is done.
6. Allow cake to cool for fifteen minutes. While the cake is still warm, take the end of a wooden spoon or another round object and poke holes all over the top of your cake.
7. Prepare the pudding. In a separate bowl, combine the 2 packages of instant pumpkin spice pudding and milk together. Whisk until well combined. Before the pudding sets, while it is still pourable, dump the pudding over top of the cake and spread with a spatula if necessary.
8. Allow the pudding and cake to set in the fridge for at least an hour. In the meantime, you can prepare your whipped cream.
9. For the homemade whipped cream, I always put my bowl and whisk attachment in the freezer for 10 minutes before making it. The added coldness helps keep the whipping cream cold while it is mixing. Using the wire whisk attachment, whip heavy cream on medium high speed for several minutes until stiff peaks form.
10. Slowly add maple syrup one tablespoon at a time, ensuring that each tablespoon is well mixed before adding the next. Add cinnamon and mix just until combine. You can scrape down the sides of the bowl and fold it together with a spatula. Keep refrigerated until ready to serve.
11. Top cake with cinnamon maple whipped cream and sprinkle with milk chocolate toffee bits. Serve immediately or keep refrigerated until ready to serve.
Recipes by Course
Recipes by Main Ingredient
Recipes by Cuisine
Recipes by Preparation
Recipes by Occasion
Recipes by Dietary