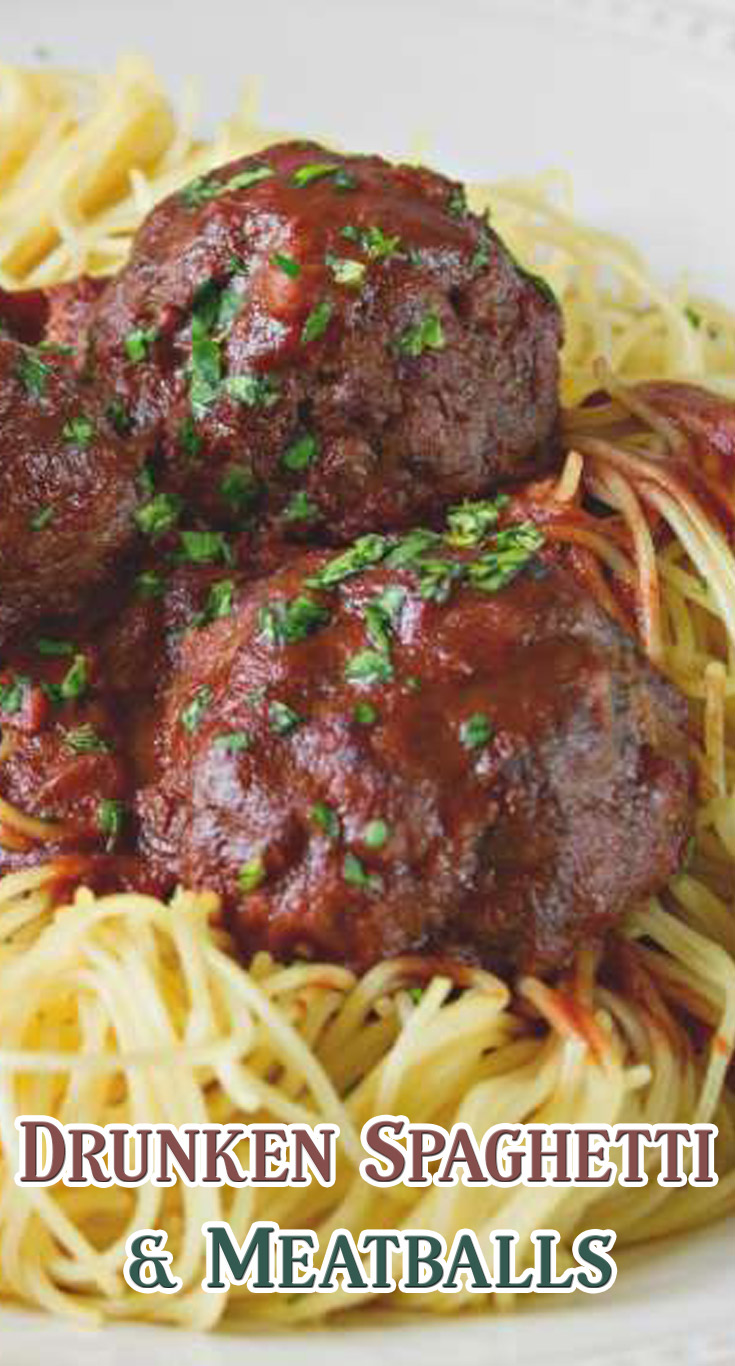 Prep Time:

30 minutes

Cooking Time:

45 minutes

Serves:

10
Drunken Spaghetti & Meatballs
Recipe Submitted by

maryjosh

on

04/27/2018
Ingredients List
For meatballs:
6 ounces french bread day-old, sliced in 8 pieces
1 cup whole milk
28 ounces ground sirloin (1.75 pounds)
2 large eggs beaten
1 medium onion finely chopped
1/2 cup fresh parsley chopped
1/2 teaspoon dried thyme
2 teaspoons salt
1 teaspoon ground black pepper
For red wine gravy:
1/3 cup flour
2 tablespoons butter salted
1 1/2 teaspoons olive oil
1 1/2 cups Clos du Bois Cabernet Sauvignon
2 1/2 cups beef broth
1/4 cup tomato paste
To serve:
32 ounces Barilla Angel Hair pasta (2 pounds)
2 750 mL bottles Clos du Bois Cabernet Sauvignon
fresh parsley, Parmesan cheese
Directions
For meatballs:
Preheat oven to 350 degrees. Grab sliced, day-old bread and place in a medium bowl. Add milk and completely submerge bread in the milk. Let sit for 10 minutes so that it can absorb the milk.
Squeeze out milk from the bread. I find that a cheesecloth or sieve can really help this process. Discard milk. Using your fingers, rip apart bread into the smallest pieces that you can manage. Otherwise, you'll get big bites of bread in your meatballs.
Place bread pieces in a large bowl. Add ground sirloin, beaten eggs, chopped onion, thyme, parsley, salt and pepper. Mix together with a spoon or with your hands until completely combined.
Grab two large, rectangle baking dishes. You can use any baking dishes with sides. Just don't use baking sheets because the juice that comes out of the meatballs may spill over. Form 30 medium-sized meatballs and place in baking dishes (15 in each). Bake for 30 minutes. Once cooked, set aside to cool so they aren't steaming anymore.

For red wine gravy:
Before you start on the sauce, boil and salt water. Add Barilla Angel Hair pasta and cook until al dente, about 5 minutes. Drain pasta. Add back to pot and toss with some with olive oil so it doesn't stick together. Set aside.
Place flour in a small bowl. Using tongs or a fork, roll 1 meatball in flour so that it is lightly coated. Tap off any excess flour. Repeat with remaining meatballs.
Add butter and olive oil to large saute pan or braising dish and turn heat to medium-high. Once butter has melted and pan is hot, add meatballs (as many that will fit) to the pan so they can brown. About 1.5 minutes per side for a total of 3 minutes. I had to do this in two batches because my pan wasn't big enough. Remove from pan and set aside.
Add wine and tomato paste to the pan. Whisk together and scrape off browned bits from bottom of the pan. Bring to a boil and continue boiling for 5 minutes until it starts thickening. Stir frequently.
Add beef broth. Bring back to a boil and then reduce to a simmer. Simmer for 12 minutes. You may notice that it's not very thick. Don't worry, once you add the meatballs, it will thicken up.
Add meatballs back to sauce. Stir around so they are all coated in sauce. Simmer for a few more minutes to heat up meatballs and thicken sauce. Add salt and pepper to taste.

To serve, place 3 ounces of angel hair pasta in a plate and add three meatballs. Top with some additional sauce. Top with a little Parmesan and fresh parsley. Pour a glass of Clos du Bois Cabernet Sauvignon to enjoy with your meal. It will pair perfectly with this dish since we used it in the sauce!
Recipes by Course
Recipes by Main Ingredient
Recipes by Cuisine
Recipes by Preparation
Recipes by Occasion
Recipes by Dietary