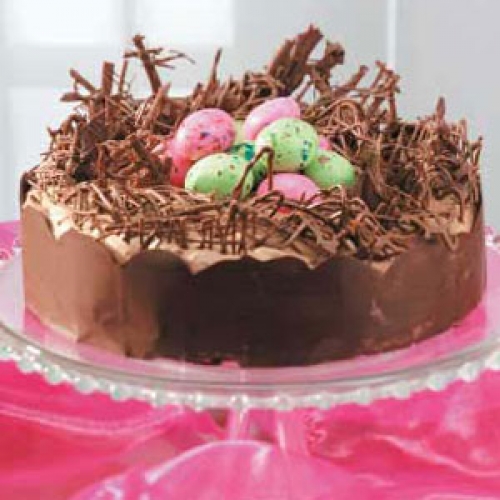 Prep Time:

1 hour + chilling

Cooking Time:

Bake: 15 min. + cooling

Serves:

12-14 servings
Category: Desserts, Kids, Eggs
Ingredients List
1/2 cup butter, softened
1/2 cup sugar
2 eggs
1/2 cup King Arthur Unbleached All-Purpose Flour
1/3 cup baking cocoa
1 teaspoon baking powder
1/4 teaspoon salt
8 ounces semisweet chocolate, melted
~~~~~~~For FILLING~~~~~~~~~~
1/4 cup sugar
1 teaspoon cornstarch
1-1/4 cups 2% milk
3 egg yolks, lightly beaten
1 envelope unflavored gelatin
3 tablespoons cold water
7 ounces semisweet chocolate, chopped
1-1/4 cups heavy whipping cream
20 to 30 small candy Easter eggs
Directions
1. In a large bowl, cream butter and sugar until light and fluffy. Add eggs, one at a time, beating well after each addition. Combine the flour, cocoa, baking powder and salt; gradually add to creamed mixture and mix well.

2. Spread into a greased 9-in. springform pan. Bake at 350° for 15-20 minutes or until a toothpick inserted near the center comes out clean. Cool for 10 minutes. Carefully run a knife around edge of pan to loosen. Remove sides and bottom of pan. Cool completely on a wire rack.

3. From a large sheet of waxed paper, cut a 29-in. x 5-in. strip. Fold strip lengthwise in half. Place strip on a large sheet of waxed paper on a work surface. Spread melted chocolate evenly along one long edge of waxed paper strip; spread upward, making a wavy line to within 1/2 in. of other long edge. Let stand for 10-30 minutes until chocolate begins to set but is still pliable.

4. Carefully lift waxed paper strip and wrap chocolate strip around cake with straight edge on the bottom. Do not remove waxed paper. Refrigerate until chilled. Meanwhile, cover three baking sheets with waxed paper. Drizzle remaining melted chocolate from a spatula over waxed paper in both directions. Chill for 10 minutes. Peel off waxed paper; break chocolate into 2-in. to 3-in. "twigs;" set aside.

5. For filling, in a small saucepan, combine the sugar and cornstarch. Stir in milk until smooth. Cook and stir over medium-high heat until slightly thickened and bubbly. Reduce heat; cook and stir 2 minutes longer. Remove from the heat. Stir a small amount of hot filling into egg yolks; return all to the pan, stirring constantly. Bring to a gentle boil; cook and stir 2 minutes longer. Remove from the heat.

6. In a small bowl, sprinkle gelatin over water; let stand for 1 minute. Stir into custard until gelatin is dissolved. Add chopped chocolate; stir until smooth. Cover surface with plastic wrap; cool to room temperature.

7. In a large bowl, beat cream until soft peaks form; fold into chocolate mixture. Carefully spoon over top of cake. Cover and refrigerate for 1-2 hours or until set. Remove waxed paper strip from side of cake. Position chocolate "twigs" around top of cake to create a nest. Arrange candy eggs in center.
Recipes by Course
Recipes by Main Ingredient
Recipes by Cuisine
Recipes by Preparation
Recipes by Occasion
Recipes by Dietary