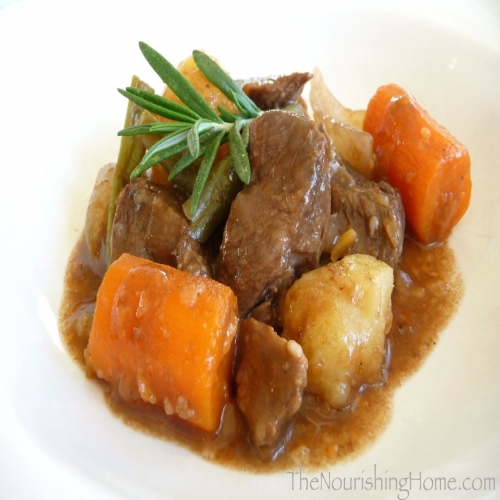 Prep Time:
Cooking Time:
Serves:
Category: Beef, Main Dish
Ingredients List
1 1/2 lbs *grassfed beef chuck, cut into 2-inch cubes
3 tbsp organic tomato paste
1 tbsp balsamic vinegar (I prefer Bariani balsamic vinegar - aff.link)
1 1/3 cup beef stock (homemade is best)
3 cloves garlic, crushed
1 bay leaf
1 small sprig fresh rosemary (or 1/4 tsp dried rosemary)
1 medium yellow onion, cut into 1-inch chunks
1 1/2 lbs small white or red potatoes, peeled & cut in half
5-6 medium carrots, cut into 2-inch pieces
1/2 lb green beans, trimmed and cut into 3-inch lengths
Optional: 1-2 tbsp arrowroot powder
Directions
1. Cut beef chuck into 2-inch chunks (do not trim off fat for best flavor). Place the beef chunks in a 4-5 quart slow cooker and generously season with about a half-teaspoon of sea salt and a half-teaspoon of freshly ground black pepper.

2. Next, add the tomato paste, vinegar and beef stock. Use a wooden spoon to combine.

3. Then, add the garlic, bay leaf and rosemary. Top with the chopped onion, potatoes and carrots in that order. Do not stir.

4. Cover slow cooker; cook on high until beef is fork-tender, about 5 hours (or cook on low heat about 7-8 hours).

5. During last 30-45 minutes of cook time, stir the green beans into the stew. If you"™d like to thicken up the broth, just before serving, add about 1-2 tablespoons of arrowroot powder, making sure to thoroughly stir it into the stew.

6. Serve with crusty bread topped with butter, or my yummy Garden Herb Biscuits.

Notes:
*Grassfed beef is a much healthier choice than commercially-produced beef. If you cannot find grassfed beef at your local markets, U.S. Wellness Meats carries a wide selection.
Recipes by Course
Recipes by Main Ingredient
Recipes by Cuisine
Recipes by Preparation
Recipes by Occasion
Recipes by Dietary