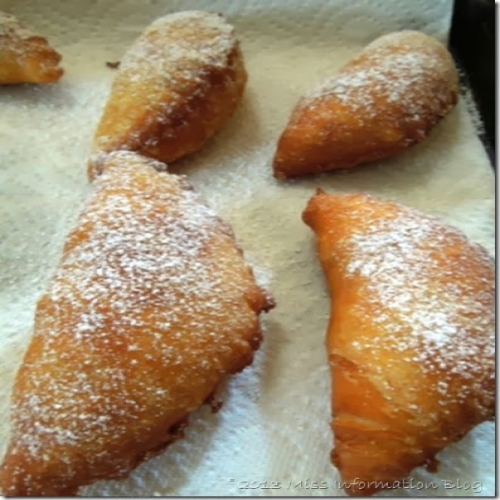 Prep Time:
Cooking Time:
Serves:
Category: Holiday, Kids, Apples
Ingredients List
2 Cans Pillsbury Grand Biscuits
Apple Pie Filling (you can use canned, I used my homemade Slow cooker Pie Filling)
Powdered Sugar (optional)
Water for sealing the edges of the dough
Peanut Oil for frying
Directions
1. throw some flower onto your counter or cutting board and roll a biscuit out till it is about 1/8" thick. Place your dough on top of the Dough Press which you see in the below picture, but if you don"™t have one of these, a fork will do just fine.

2. Place about 1 1/2 tbsp. of the apple pie filling into one side of the pie. Be careful not to use too much or you will have a hard time sealing your pie. Dip your finger in water and run it around the 1/2 of the circle that has filling in it.

3. Close the dough press and squeeze it shut. While shut remove any excess dough. If you don"™t have a dough press then bring the empty side of the dough over the filling and press the edges together with a fork. The water will help seal the edges so you filling does not spill out during frying.

4. I usually make all my pies first and lay them on a parchment lined cookie sheet. Fill your frying pot 1/2 way with peanut oil. You want the pie to be able to submerge in the oil so about 5-6 inches is good. Bring the oil to 350 degrees. Line another cookie sheet with paper towels and lay it to the side. Put your powdered sugar in a small strainer or I use my flour sifter which has a great spring-loaded handle instead of a crank.

5. Drop the pies into the hot oil and let them cook for about 2-3 minutes then flip them. You will see that they brown fast and will be tempted to take them out but don"™t. They will not burn as fast as you think and if you take them out too early they will be under cooked and you will have raw dough on the inside. They need to stay in the oil at least 8 minutes. I usually take the first one out and cut it in 1/2 to check it and adjust my time if needed. Take your pies out of the oil and lay on the paper towels to drain. Immediately sprinkle with powdered sugar if desired. Allow time between batches for your oil to return to your frying temp of 350 degrees.

6. Let them cool for a bit before you bite into one but they are hard to resist. They are of course best the first day but you can reheat one in the microwave for breakfast (they are made of biscuits after all) or my favorite way to eat these easy fried apple pies is to serve them with a scoop of ice cream on top!
Recipes by Course
Recipes by Main Ingredient
Recipes by Cuisine
Recipes by Preparation
Recipes by Occasion
Recipes by Dietary