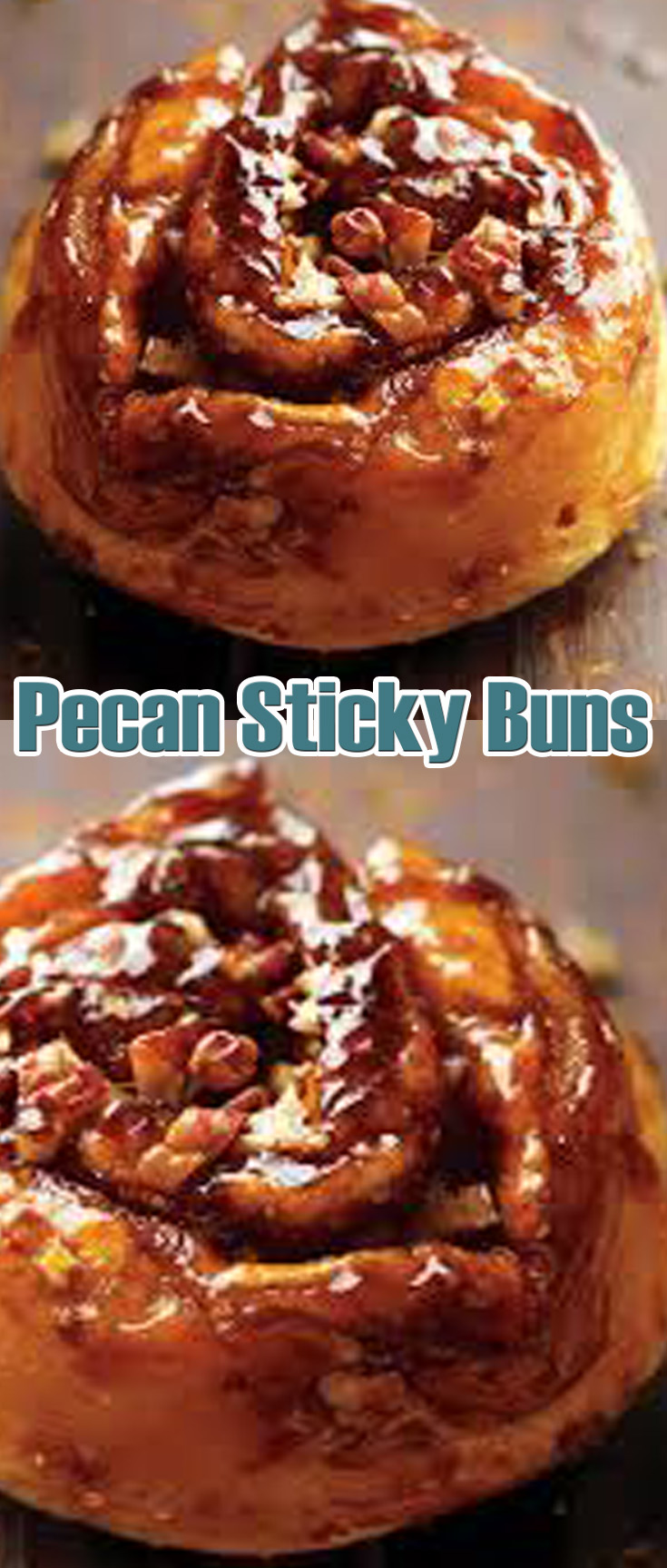 Prep Time:

50 minutes

Cooking Time:

50 minutes

Serves:

8
Easy Pecan Sticky Buns
Recipe Submitted by

maryjosh

on

04/30/2018
Ingredients List
For the brioche dough:
3 1/4 teaspoons active dry yeast (1 1/2 packages)
1 3/8 cups unsalted butter room temperature
2 1/2 cups all-purpose flour
2 1/4 cups bread flour
1/3 cup + 1 tablespoon granulated sugar
1 tablespoon salt
1/2 cup cold water
5 large eggs
For the goo:
3/4 cup unsalted butter
1 1/2 cups light brown sugar
1/3 cup honey
1/3 cup heavy cream
1/3 cup water
1/4 teaspoon salt
2 cups pecans lightly chopped and toasted
For the filling:
1/4 cup light brown sugar
1/4 cup granulated sugar
1/8 teaspoon ground cinnamon
1/2 cup pecans lightly chopped and toasted
Directions
For the brioche dough*:
In a bowl fitted for a stand-mixer, add flours, yeast, salt, sugar, water, and eggs. Attach dough hook and mix ingredients on low for 3-4 minutes until all the ingredients are combined, scrapping down the sides, as needed, to incorporate all the ingredients. Once incorporated, continue mixing for another 3-4 minutes. The dough will seem dry, but don't worry.
Cut butter into 12 pieces. Add one piece of butter to dough and mix on low until completely incorporated into dough. Repeat with remaining pieces of butter, 1 piece at a time. Once all butter is added, continue to mix on low for another 10 minutes. It is important for all the butter to be thoroughly mixed into the dough.
Once the butter is completely mixed into the dough, increase the speed to medium and beat for 15 minutes, until the dough is soft and slightly sticky. Don't worry - it will take time for the dough to come together so it will take the full 15 minutes. The dough will start of really loose and shaggy but will come together in the last couple of minutes. Once it's finished, beat on high for 1 minute. You should hear the dough make a slap-slap-slap sound as it hits the sides of the bowl. It will be ready once you can grab it all up in a ball. If it's still too loose, continue mixing for 2-3 more minutes on medium.
Put the dough in a large bowl or plastic container and cover it with plastic wrap, pressing the wrap directly onto the surface of the dough to prevent it from drying out. Let the dough proof in the refrigerator for at least 6 hours or up to overnight.

For the goo:
The next day, melt butter over medium heat. Add brown sugar and cook to combine. Once it starts to bubble, remove from heat and add honey, cream, water, and salt. Whisk together to combine. Let it cool for 30 minutes while we roll out the dough.

For the assembly:
The next morning, remove ball of dough from fridge. It will have risen slightly but not doubled in size and be the consistency of cold Play-doh. Cut dough ball in half and save half for another use. Place remaining half on floured surface and begin rolling out into a rectangle until it is 12x16 and about 1/4-inch thick. Position the rectangle so that the short side is facing you.
In a small bowl, mix the ingredients for the filling. Sprinkle filling all over the rectangle of brioche dough in one even layer. Begin tightly rolling the rectangle into a log, starting on the short side closest to you and ending on the other short side. The log should be 12 inches long.
Using a serrated knife, cut log into 8 even slices. Pour all of the goo into a 9x13 pan so that it coats the bottom evenly. Sprinkle 2 cups of chopped pecans evenly over the goo. Place all 8 slices of the dough into prepared pan and space them out evenly. Cover with a towel and place in a warm spot so they can get puffy and almost triple in size. This will take about 2 hours.
When you have about 20 minutes left of rise-time, preheat oven to 350 degrees. Bake buns in a preheated oven for 35-45 minutes, until the tops are deep golden brown.
Let the cooked buns cool for 20 minutes so that the molten goo doesn't burn your mouth. Once cooled, use a spatula to invert a bun one at a time onto a serving plate. Spoon extra goo over the top. Serve immediately.
Recipes by Course
Recipes by Main Ingredient
Recipes by Cuisine
Recipes by Preparation
Recipes by Occasion
Recipes by Dietary