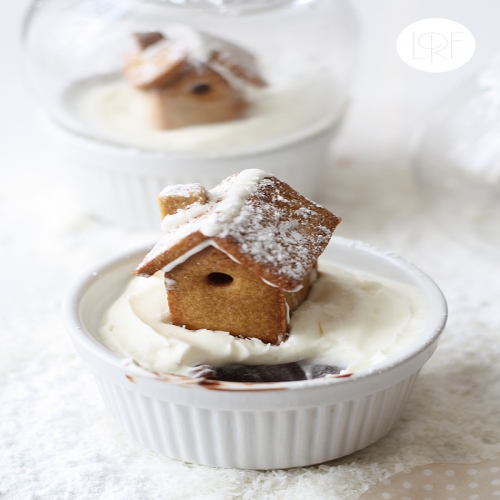 Prep Time:

45-minutes

Cooking Time:

10-minutes

Serves:
Category: Holiday, Frozen, Eggs
Ingredients List
Gingerbread cookie recipe:
350 g flour
125 g butter, cold and diced
100 g treacle
1 tbs mixed spice
1/2 tbs ground ginger
100 g sugar
1 egg (medium size)
Royal icing:
200 g icing sugar
1 egg white
Directions
1. Let"™s start preparing cookie dough. In a medium mixing-bowl, mix together all ingrediente to form a ball.

2. Divide the dough in two, and gather each portion into a slightly flattened ball.

3. Working with one ball of dough at a time, roll it out between two baking papers to a thickness of maximum 0,5 cm.

4. Use a small, sharp knife to cut around a house template. Remove trimmings and lift the gingerbread, on its parchment, onto baking trays.

5. Place cookies on the fridge whilst preheating oven to 350º F (180 º C)

6. Bake the cookies for 10 minutes (aprox) until brown on the edges. Let them cool on a wire rack

7. Prepare Royal icing. Beat sugar and egg white until you have a stiff icing. Spoon into a piping bag. Arrange the wall biscuits as you are going to assemble them, then pipe icing along the side edges and stick the walls together. Once dry, stick on the roofs, (you may need to hold the biscuits on firmly for a few seconds until the icing starts to set) Let dry completely

8. Then you just have to decorate your dessert, cupcake or cake. Finish your dessert with whipped cream, flaked coconut or icing sugar to create a "snowy" effect. Place gingerbread mini house on top, and sprinkle some more flaked coconut or icing sugar over the roof. Carefully invert bubble bowl on top, and finish with some more icing sugar on top.

Recipes by Course
Recipes by Main Ingredient
Recipes by Cuisine
Recipes by Preparation
Recipes by Occasion
Recipes by Dietary