Side Pannel
Epic Crispy Quinoa Burgers Topped with Sweet Potato Fries, Beer Caramelized Onions + Gruyere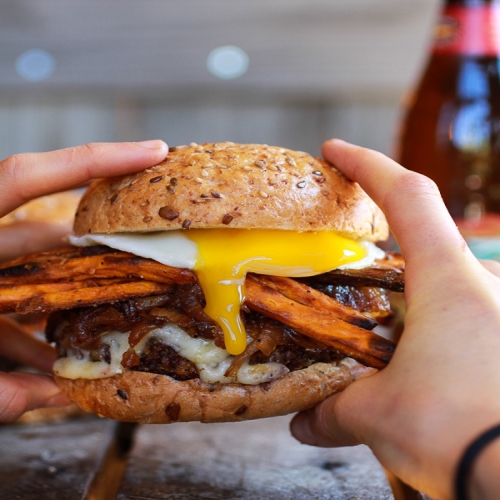 Prep Time:

20 minutes

Cooking Time:

50 minutes

Serves:

4-5 Burgers
Epic Crispy Quinoa Burgers Topped with Sweet Potato Fries, Beer Caramelized Onions + Gruyere
Category: Holiday, Main Dish, Healthy Recipes
Ingredients List
2 cups cooked red quinoa
1 cup cannellini beans, mashed
1/2 cup panko bread crumbs
1 large egg, lightly beaten
1 clove garlic, grated
1 teaspoon chipotle chile powder
1/2 teaspoon salt
1/2 teaspoon peper
3/4 cup sharp cheddar cheese, shredded
3 tablespoons olive oil
4 of your favorite burger buns | http://www.halfbakedharvest.com/everything-bagel-slider-buns/]
4 eggs cooked to your liking, optional (but recommended)!
Sweet Potato Fries
4 medium sweet potatoes, cut into thin 1/2-inch thick strips
1/2 teaspoon chipotle chile powder
1/4-1/2 cayenne pepper
1/4 teaspoon smoked paprika
salt and pepper, to taste
4 tablespoon olive oil
Beer caramelized onions
1 tablespoon butter
2 large sweet onions, thinly sliced
1 cup beer (I used pumpkin beer)
Directions
1. In a bowl combine the quinoa, mashed cannellini beans, bread crumbs, egg, garlic, chipotle chile powder, salt and pepper. Mix well to moisten the ingredients and then mix in the shredded cheddar cheese. Mix well again and form into 4 or 5 equal burger patties (I made 5). Place on a plate and put in the fridge.
2. Preheat oven to 425 degrees F.
3. Place cut potatoes in a large bowl and drizzle with oil, chipotle chile powder, cayenne, smoked paprika, salt and pepper. Gently toss with your hands or two spatulas to evenly coat. Spread on a baking sheet in one layer. Bake for 15-20 minutes, then flip and bake for 15-20 minutes more. You want the sweet potatoes to be crispy, but not burnt. If you want perfectly crisp fries I recommend spreading the sweet potatoes on a greased wire rack and baking them as directed above. But this way is a bit of a pain. Keep the sweet potato fries warm until ready to top on the burgers.
4. While the fries cook caramelize the onions. Heat large skillet. Add 1 tablespoon butter over medium-high heat. Add onions and cook about 15 minutes, stirring frequently, until softened.
5. At this point you want to slowly add the beer, let it cook into the onions, add more and let it cook. Do this until the 1 cup of beer is gone or the onions are caramelized to your liking and the beer has evaporated. Remove from the skillet and keep warm.
6. In the same skillet add 1 tablespoon olive oil. Grab the quinoa burgers and cook until golden and crisp, about five minutes per side. During the last minute or so of cooking add the Gruyere cheese, cover the pan and cook 2-3 minutes or until the cheese has melted. My burgers were not crumbly at all and very easy to flip.
7. To assemble the burgers, place each burger on a bun, top with equal amounts of caramelized onions and sweet potato fries. If desired add you egg. EAT!
Recipes by Course
Recipes by Main Ingredient
Recipes by Cuisine
Recipes by Preparation
Recipes by Occasion
Recipes by Dietary