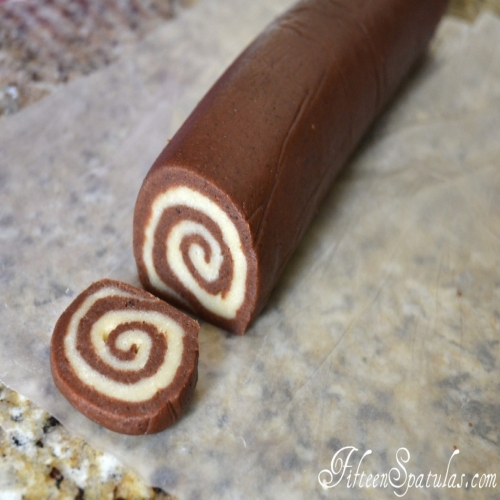 Prep Time:
Cooking Time:
Serves:
Category: Holiday, Eggs, Cookies
Ingredients List
15 oz all purpose flour (3 cups)
1.5 tsp baking powder
1/4 tsp salt
1 cup unsalted butter, at room temperature
1 cup sugar
1 extra large egg
1 tsp vanilla extract
2.25 tsp instant espresso powder
2 oz bittersweet chocolate, melted
1 tbsp cocoa powder
Directions
1. Whisk to combine the flour, baking powder, and salt. Set aside.

2. In a stand mixer bowl fitted with the paddle attachment, beat the butter to spread around the bowl. With the mixer running, stream in the sugar. Add the egg and vanilla and mix until combined.

3. Slowly add the flour mixture to the stand mixer bowl until combined.

4. Remove half of the dough, wrap in plastic and put into the fridge.

5. Add the espresso powder, chocolate, and cocoa powder to the remaining dough, and mix to combine.

6. Remove the coffee dough from the mixer and place between two pieces of wax paper. Roll it out into a 9x14 inch rectangle. Do the same with the vanilla dough. Refrigerate both doughs on a sheet pan for 1 hour.

7. Top one dough over the other, then use a rolling pin to press them together. Very slowly, start rolling the dough up jelly roll style.

8. If the dough tears, stop and patch it together. Roll it very tightly and take your time. Once the dough has been rolled up, chill for another 30 minutes to a full hour.

9. Preheat the oven to 350 degrees F. Cut the dough into sliced cookies (I did somewhere between 1/4" and 1/8" thick).

10. Place cookie slices on a parchment paper lined sheet pan. Bake for 10 minutes, and cool on a wire rack.
Recipes by Course
Recipes by Main Ingredient
Recipes by Cuisine
Recipes by Preparation
Recipes by Occasion
Recipes by Dietary