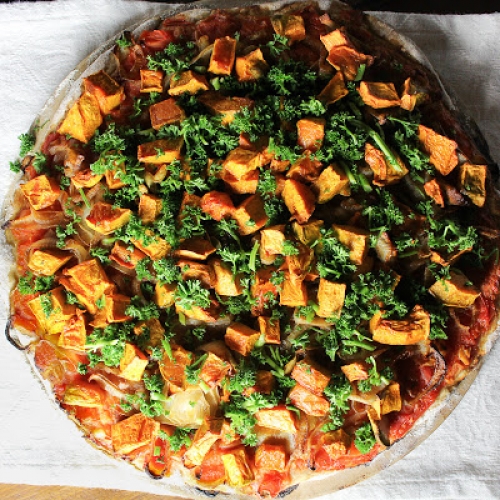 Prep Time:
Cooking Time:
Serves:
Everything From Scratch Pizza
Category: Sauces, Lunch/Snacks, Tomatoes, Onions, Pizza
Ingredients List
300g pumpkin, skinned, deseeded and cubed
1 tsp olive oil
Dough
7g dried yeast
2 tsp raw sugar
2/3 c warm water
1 c wholemeal spelt flour (+ extra for kneading)
1 tblsp olive oil
pinch of salt
Sauce
5 fresh tomatoes, roughly chopped
8 cloves of garlic, minced
1 tblsp water
2 tsp malt extract
2 tsp apple cider vinegar
pinch of salt
Caramelised Onions
2 large brown onions, finely sliced
1 tblsp olive oil
2 tsp balsamic vinegar
Directions
1. Firstly, heat oven to 200 degrees.

2. Toss pumpkin and olive oil and place on a baking tray, in the oven for 30-40 mins.

3. Next, you will need to start the dough.

4. Whisk yeast, sugar and water in a small jug and set aside for 2 mins to activate.

5. Place spelt flour, oil and salt in a medium bowl.
Once the yeast is bubbly and activated, mix it into flour - knead until elastic and smooth (adding extra flour as needed).

6. Roll into a ball and place into a flour lined bowl. Cover and set aside to double in size (I find it helps to place the bowl above the warm oven).

7. Combine all ingredients for the sauce in a heavy based pan.
Simmer on medium heat until sauce-like (approximately 10-20 mins).

8. While you are waiting for your sauce to simmer down, add onions, oil and vinegar to a medium saucepan.
Heat on medium and toss the onions until softened and caramelised.

9. Remove from heat and set aside.

Assemble

10. Ensure the oven is on the highest heat setting.

11. Roll out dough on a floured pizza stone or baking tray (approximately 1.5 cm thick).

12. Spread over the tomato sauce, then the caramelised onions.

13. Finally, sprinkle over the roasted pumpkin.

14. Place in hot oven and bake for 35 mins or until the edges start to darken.

15. Remove from oven, garnish with parsley and slice into 8 portions.

16. Enjoy!
Recipes by Course
Recipes by Main Ingredient
Recipes by Cuisine
Recipes by Preparation
Recipes by Occasion
Recipes by Dietary