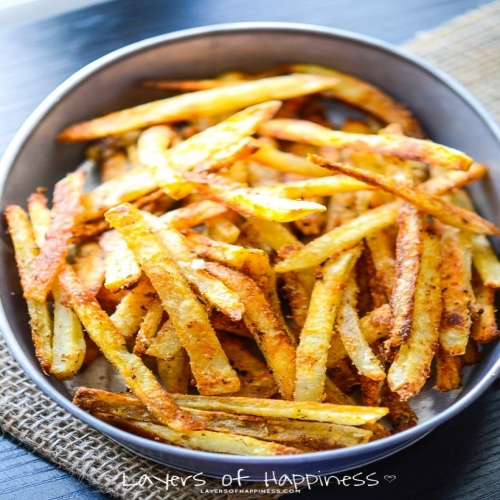 Prep Time:

45 minutes

Cooking Time:

1 hour

Serves:

serves 2-4
Extra Crispy Oven Baked French Fries
Category: Tomatoes, Healthy Recipes, Snacks, Microwave
Ingredients List
2 Tablespoons seasoned salt
1 teaspoon chili powder
1 teaspoon dried basil
1/8 teaspoon cumin
1/8 teaspoon black pepper
For the Fries:
3 medium russet potatoes (russet are the best choice for perfect crispy fries)
1-2 Tablespoons olive oil
2 Tablespoons grated Parmesan (optional)
Directions
1. Combine seasoning ingredients in a small bowl; set aside.

2. Wash and peel the potatoes. Cut off the ends. With a very sharp knife, cut the potatoes into thin slices about 1/4 inch wide.

3. Add the fries to a large bowl and cover with cold water. Allow them to soak for at least 30 minutes but they can soak for as long as overnight. (Place in the fridge if soaking more than an hour).

4. After the fries have soaked, drain, rinse, and lay the fries on a paper towel lined cooling rack to dry while you preheat the oven to 400 degrees. Blot the tops with additional paper towels to absorb any excess moisture.

5. Line a baking pan with parchment paper or foil and spray with non-stick spray. Make sure the previously used bowl is dry and add the potatoes to it, add 1-2 tablespoons of oil and 1 Tablespoon of the seasoning mixture. Toss around to mix.

6. Evenly line the baking pan with the fries in a single layer. Don"™t overlap or they fries won"™t cook properly. Bake for about 30 minutes, flipping with a spatula once or twice after 15 minutes of cooking. Remove fries from the oven and turn the oven up to 425 degrees. Return the fries to the oven until they are golden brown and the ends look a little burnt.

7. Sprinkle the fries with the other half of the seasoning mix and Parmesan cheese (optional). Serve immediately.
Recipes by Course
Recipes by Main Ingredient
Recipes by Cuisine
Recipes by Preparation
Recipes by Occasion
Recipes by Dietary