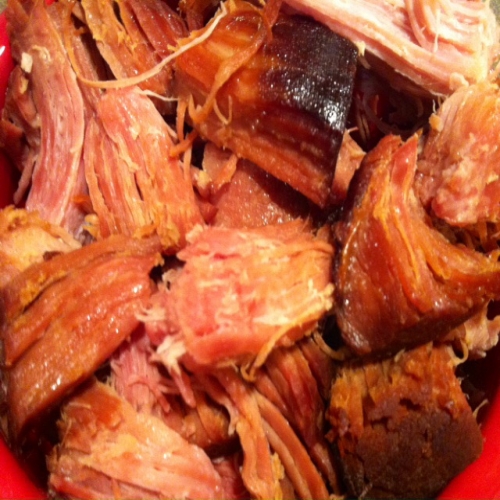 Prep Time:
Cooking Time:
Serves:
Fall-Off-The-Bone Crock Pot Ham
Recipe Submitted by

Cobb

on

11/24/2014
Category: Dinner Party, Healthy Recipes, Main Dish
Ingredients List
1 Bone-in Ham
Here"™s a little lesson on ham"¦At a regular grocery store, you will most likely have the option of a "Butt End/Portion" (the upper portion of the leg) or a "Shank End/Portion" (the lower portion of the leg). The "Butt " cut generally has more meat than the "Shank " cut, but also contains more fat and bone. The "Shank " cut only has one large bone so it is a great choice if you will be carving your ham. We won"™t be doing much carving folks; it"™s going to be falling apart on its own. If you are curious what the difference between the "End" and the "Portion" cuts are, I will enlighten you. Have you ever bought the "Center Ham Slices" from the store? They are more like a ham steak, usually less than 1" thick. This is the prime cut from the ham that is sliced from between the "Butt" and the "Shank" portions of the ham. If you buy a ham labeled "Butt or Shank End," you are buying a ham that still has that center slice attached. If you buy the "Butt or Shank Portion," that center slice has been removed.
As far as our ham goes, I recommend the "Butt Portion" as our goal for this recipe in the crock pot is to find the shortest ham you can. We are good with bones and fat in a crock pot recipe because they are going to give us a ton of flavor. Also a note on spirals"¦ they will work just fine but tend to dry out a little more and don"™t give you the delicious chunks of shredded ham. You will just have a whole lot of tiny little pieces. Whew! Let"™s move on!
3 cups light brown sugar (I never measure, so this is just an approximate amount).
Directions
Use about 1 and ½ cups of the brown sugar, or enough to cover the bottom of the crock pot in a ¼ inch layer.

plastic

Cut open your ham packaging and remove the plastic circle that is most likely covering the bone on the bottom side of the ham.

ham in pot

Place your ham face down on top of the brown sugar.

ham and sugar

Coat the top of the ham in a thick layer of brown sugar.



crockpot

Replace lid. If your ham is too tall to fit the lid on top, cover with a few pieces of foil. Try to get as tight a seal as possible.

Cook over high heat for 6-7 hours or low heat for 8-10 hours. I like to flip the ham at least once during the last hour or two of cooking to ensure the entire ham gets to soak in all the yummy juices.

fork

You know the ham is done when you can poke in a fork and easily shred the ham. The hams are already pre-cooked before they are packaged so if you happen to run short on time and have to pull it out before it starts falling apart, it will still be ok to eat.

Remove from crock pot and serve in chunks.

Don"™t worry about cleaning off the bone too much because you can save the bone and scraps for a split pea and ham soup or ham and navy bean soup.

I usually save some of the ham chunks for leftovers and sandwiches but the rest I cube up and freeze for convenient additions to other meals. Use a handful for omelets, breakfast burritos, biscuits and ham gravy, baked macaroni and cheese with ham, etc. This is primarily why I make ham year-round. I love the convenience of having it in the freezer for go-to meals.
Recipes by Course
Recipes by Main Ingredient
Recipes by Cuisine
Recipes by Preparation
Recipes by Occasion
Recipes by Dietary