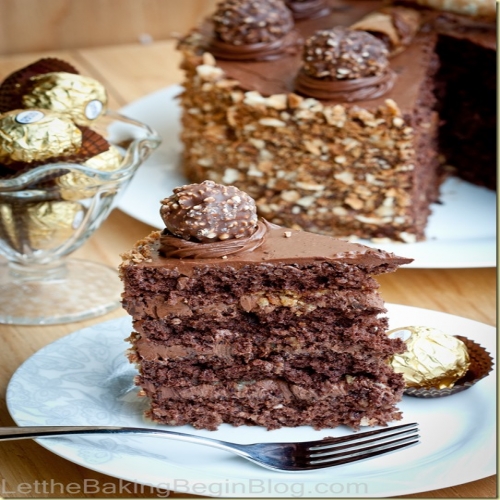 Prep Time:
Cooking Time:
Serves:
Category: Holiday, Kids, Chocolate, Eggs, Cakes
Ingredients List
Cake Layers
7 large eggs, room temperature
½ cups sugar, granulated
2 cups finely ground hazelnuts or hazelnut flour
3 Tbsp all purpose flour
3 Tbsp cocoa powder
3 tsp baking powder
Frosting
300 grams unsalted butter, room temperature
2¼ cups chopped chocolate or chocolate chips
½ cup Nutella
Also
1.5 cup wafers, crushed
Decorating
10 Ferrero Rocher Candies
¾ cups hazelnuts, chopped / or ¾ cups wafers, crushed
Directions
=======Cake Layers=============

1. Preheat oven to 350F. Line 2 "" 8 inch round pans with foil and spray with non stick spray, or butter the sides.

2. Sift flour, cocoa & baking powder. Stir in ground nuts.

3. Whip eggs on high speed, until frothy. Slowly add the sugar and continue whipping until tripled in volume, about 5 minutes.

4. Fold dry ingredients into the eggs , in 3 additions.

5. Divide the batter evenly between 2 "" 8 inch pans and bake at 350F, until a toothpick inserted in the center comes out clean.

6. Once baked, leave in the pan for 5 minutes, then transfer to a cooling rack.

==========Make the Frosting==============

1. Melt chocolate in microwave, on low heat, in short intervals, stirring each between each time. Bring to room temperature.

2. Whip chocolate, butter & Nutella until thoroughly combined.

=========Assembly=======

1. Once the cake is cool, split each cake in 2 even layers.

2. Crush wafers by putting in a ziplock bag, then going over them with a rolling pin or something heavy.

3. Reserve ¾ cup frosting for decorating.

4. Place a dab of frosting onto a serving platter.

5. Put 1 cake layer on top and press to adhere.

6. Put ¼ of the remaining frosting onto the cake and spread around evenly. Sprinkle with â…" of the crushed wafers.

7. Repeat above 2 steps with the remaining cake layers.

8. Pipe 8 stars on top of the cake.

9. Cover the cake sides with reserved frosting.

10. Press the crushed wafers or chopped hazelnuts onto the sides of the cake.

11. Place 1 Ferrero Rocher candy on top of each piped star.

Recipes by Course
Recipes by Main Ingredient
Recipes by Cuisine
Recipes by Preparation
Recipes by Occasion
Recipes by Dietary