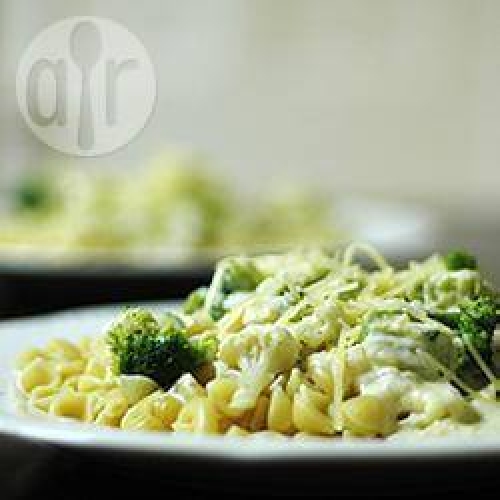 Prep Time:

10 Minutes

Cooking Time:

10 Minutes

Serves:

3 Servings
Ingredients List
2 (227ml) pots double cream
100g (4 oz) butter
50g (2 oz) grated Parmesan cheese
50g (2 oz) grated mozzarella cheese
50g (2 oz) grated Provolone cheese
50g (2 oz) grated Pecorino cheese
Directions
1. In a medium saucepan combine cream and butter. Bring to a simmer over medium heat, stirring frequently until butter melts. Gradually stir in cheeses. Reduce heat to low, and continue to stir just until all cheese is melted.

2. Serve immediately, sauce will thicken upon standing.


Tip:
If you can't find Provolone, a cheese from southern Italy, use any semi-hard cheese you prefer - Cheddar would do just fine.
Parmesan cheese

Parmesan cheese is not truly vegetarian, as it contains animal rennet. To make this dish 100% vegetarian, omit the cheese or find a suitable vegetarian substitute made without animal rennet. In supermarkets look for the 'parmesan style hard cheeses' which are suitable for vegetarians.

Recipes by Course
Recipes by Main Ingredient
Recipes by Cuisine
Recipes by Preparation
Recipes by Occasion
Recipes by Dietary