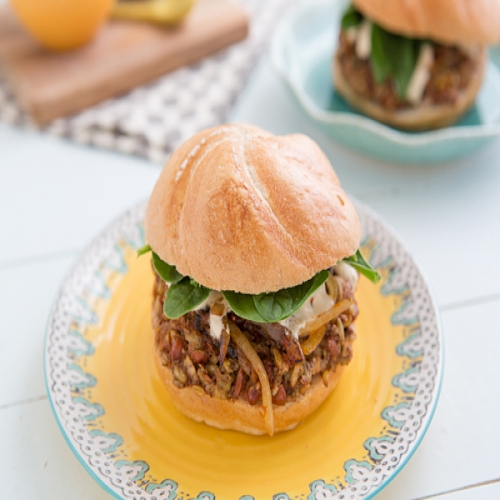 Prep Time:

20 minutes

Cooking Time:

25 minutes

Serves:

4-6 servings
Freekeh Bean Burgers with Harissa Onions
Category: Beans, Onions, Healthy Recipes
Ingredients List
1 1/2 cups cooked pinto beans (or one 15-ounce can)
1/2 cup cracked freekeh, cooked according to package instructions
2 cloves garlic, minced
1/4 cup shredded carrot
1/4 cup sliced green onions
1 tablespoon za'atar
1 teaspoon cumin
Salt and pepper to taste
1 egg, lightly beaten
1 tablespoon olive oil
1 large onion, thinly sliced
1-2 teaspoons harissa
1 batch Smoky Garlic Aioli
4-6 hamburger buns
Baby spinach leaves, for serving
Directions
1. Preheat oven to 350ºF.

2. Place the beans in a large bowl and use a wooden spoon or potato masher to mash them slightly""they shouldn't be completely mashed, but there should be very few left intact when you're finished. Stir in the freekeh, garlic, carrot, and green onions. Season with the za'atar 1 teaspoon at a time, tasting to get the right amount. (Since za'atar mixtures can vary, it's hard to give an exact number, but I ended up using a full tablespoon.) Stir in the cumin and salt and pepper to taste, then fold in the egg.
Form the burger mixture into 4 large patties (for large hamburger buns) or 6 small patties and place them on a parchment paper-lined baking sheet, shaping them on the sheet to make sure they're round and well-formed. Spray the tops with an oil mister (or brush them with a small amount of olive oil) and bake for about 25 minutes, or until lightly browned and slightly crispy on the edges.
While the burgers are in the oven, heat the olive oil in a large skillet over medium heat. Add the onion and a pinch of salt; cook until browned, 8-10 minutes. Stir in the harissa, starting with 1 teaspoon (or a half teaspoon if you're not a fan of spicy food) and adding more to taste.

3. To assemble the burgers, place each patty on a bun and top them with onions, aioli, and spinach leaves.


Recipes by Course
Recipes by Main Ingredient
Recipes by Cuisine
Recipes by Preparation
Recipes by Occasion
Recipes by Dietary