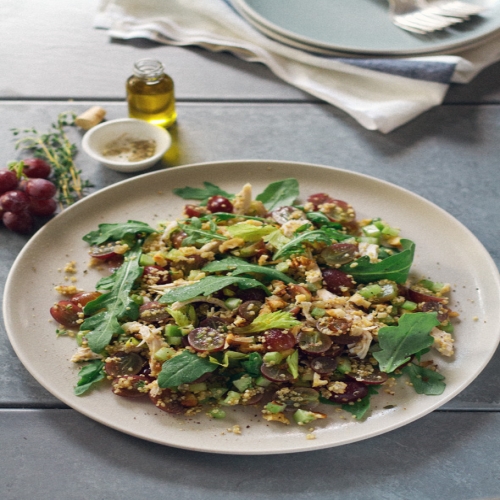 Prep Time:
Cooking Time:
Serves:
Grape Quinoa Chicken Harvest Salad
Category: Side Dishes, Salads, Healthy Recipes, Main Dish, Chicken
Ingredients List
12 ounces boneless, skinless chicken
1 teaspoon kosher salt plus more for salad
1/4 teaspoon whole peppercorns
5 tablespoons extra-virgin olive oil divided
1 medium yellow onion small dice
1 1/2 cups uncooked quinoa rinsed
2 tablespoons fresh thyme leaves minced
2 1/2 cups low-sodium vegetable broth, chicken broth, or water
2 cups red grapes halved
1 cup toasted walnut halves, finely chopped
4 medium celery stalks small dice
5 tablespoons white balsamic vinegar
3 ounces wild baby arugula
Directions
1. For the chicken: Fill a medium pot with water then add in the chicken, kosher salt, and peppercorns and bring to a boil over high heat. Reduce heat and simmer for 15 to 20 minutes, or until juices run clear and the chicken is fully cooked through. Remove from heat and set aside until the chicken is cool enough to handle. Meanwhile, cook the quinoa. (Chicken can be made up to 4 days ahead of time; store refrigerated in an airtight container until ready to use.)

2. For the quinoa: Heat 3 tablespoons of the olive oil in a large frying pan over medium-high heat. Add onion, season with salt and pepper, stir to coat in the oil and cook until translucent, about 3 minutes. Add the quinoa and thyme and cook until the quinoa is toasted and makes a popping noise, about 2 minutes.

3. Add the broth, reduce the heat to medium-low, and cook the quinoa (uncovered) until it is al dente (the little tails will come off the end of each grain), about 12 to 15 minutes. Remove quinoa from heat, spread in a thin layer on a rimmed baking sheet and set aside to cool briefly, at least 5 minutes. Meanwhile, shred the chicken. (Quinoa can be made up to 4 days ahead of time; store refrigerated in an airtight container until ready to use.)

4. Shred the chicken into bite-sized pieces and toss with the remaining 2 tablespoons olive oil the season with a pinch of salt and some freshly ground black pepper. Once the quinoa is cool, combine quinoa, shredded chicken, grapes, walnuts, celeryand vinegar and stir to combine and thoroughly coat. Just before serving, fold in the arugula, taste, adjust seasoning as desired, and serve.
Recipes by Course
Recipes by Main Ingredient
Recipes by Cuisine
Recipes by Preparation
Recipes by Occasion
Recipes by Dietary