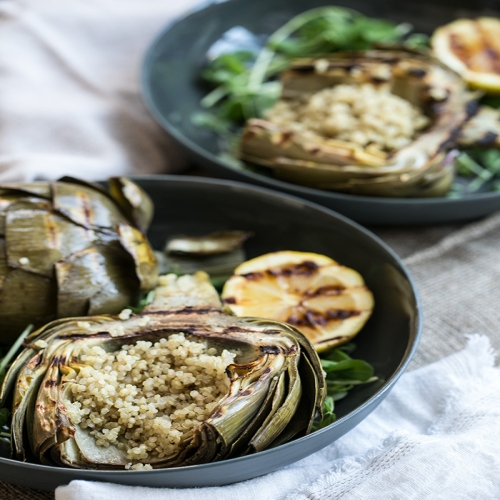 Prep Time:
Cooking Time:
Serves:

2-4 Servings
Grilled Artichokes Marinated in Garlic + Lemon
Recipe Submitted by

Fajitas

on

07/07/2014
Category: Vegetables, Side Dishes
Ingredients List
2 large globe artichokes
4 garlic cloves, pressed
2 lemons
olive oil
salt + pepper
red pepper flakes (optional)
optional for serving: a couple of scoops of cooked quinoa, couscous, or millet for the insides of the artichokes
Directions
Trim, prepare, and steam the artichokes:
Slice off the top 1/2 of the artichoke, but keep the stem in tact. Then, using a scissor, snip off the tops of the leaves where the prickly bits are.
Then place a large pot of boiling water with a steamer basket over high heat (make sure the water comes up to the basket but does not go over). Place the artichokes in the steamer basket, cover, and steam for 30 minutes. Remove them from the pot and allow them to cool slightly.

Marinate the artichokes:
When the artichokes are steaming, prepare the marinade. Place about 1/4 cup of olive oil, the garlic, the juice of 1 lemon and some salt and pepper and red pepper flakes in a large bowl or plastic bag.
When the artichokes have cooled, slice them down the center being careful to keep the artichokes in tact. Then, using a spoon, scoop out the prickly insides that surround the heart.
Place the artichokes into the bowl or bag with the marinade and make sure the marinade is covering the artichokes. Place them in the fridge until you are ready to serve. It is best to marinate them overnight or for a day, but if you don't have the time you can marinade them for 20-30 minutes.

Grill the artichokes:
Using either a grill or a grill pan, set the heat to medium-high. Place the artichokes cut side down and grill them for about 5 minutes on each side.
I also like to grill a lemon along with the artichokes, so I slice the second lemon in half and place it on the grill for about 5 minutes.
Serve warm with a squeeze of the grilled lemon, and with a scoop of quinoa, millet or couscous if you like.
Recipes by Course
Recipes by Main Ingredient
Recipes by Cuisine
Recipes by Preparation
Recipes by Occasion
Recipes by Dietary