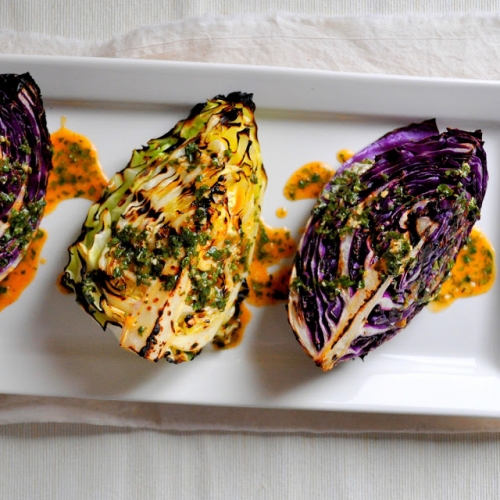 Prep Time:
Cooking Time:
Serves:
Grilled Cabbage Wedges with Spicy Lime Dressing
Category: Lunch/Snacks, Healthy Recipes, Grill
Ingredients List
1/4 cup fresh lime juice
1/4 cup extra-virgin olive oil
1 teaspoon fish sauce
2 garlic cloves
1/4 cup cilantro leaves
1/2 teaspoon salt
1/2 teaspoon cayenne
1/2 teaspoon sugar
1 head of cabbage (I used half of head of green and half a head of purple)
Canola oil
Directions
1. In the bowl of a food processor or blender combine the lime juice, olive oil, fish sauce, garlic, cilantro, salt, cayenne and sugar and pulse or blend until the sauce is pale orange color in color. Set aside.

2. Remove the loosest, toughest outer leaves from the cabbage; cut into 8 evenly sized wedges. Do not remove the stalk or inner core. Lightly brush the wedges with canola oil.

3. Place the wedges on the grill and cover. Cook for 5 to 7 minutes or until the edges of each layer are blackened and the cabbage is beginning to soften. Flip each wedge over, cover the grill, and cook for an additional 5 to 7 minutes on the other side. Remove the cabbage when it is beginning to wilt, but is still firm in the middle. If necessary, turn the heat down or move the wedges to a cooler part of the grill so they don't burn. Don't be afraid of the blackened edges; you want a lot of grill and char marks on the cabbage.

4. Take the cabbage off the grill and place on a serving plate. Pour the dressing over the top of the cabbage and serve immediately with wedges of lime.

Recipes by Course
Recipes by Main Ingredient
Recipes by Cuisine
Recipes by Preparation
Recipes by Occasion
Recipes by Dietary