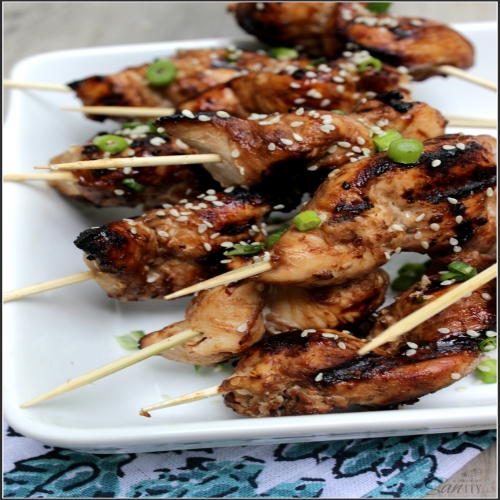 Prep Time:

10 minutes

Cooking Time:

15 minutes

Serves:
Grilled Sesame Chicken Kabobs
Category: Healthy Recipes, Main Dish, Chicken
Ingredients List
2lbs. chicken tenders
4 garlic cloves peeled & crushed
½ cup soy sauce
¼ cup seasoned rice wine vinegar
3 tablespoons honey
1 tablespoon fresh ginger root, peeled and grated
4 medium green onions, chopped
2 tablespoons toasted sesame oil
4-6 sprigs fresh cilantro, garnish.
½ lime, juiced (other ½ quartered and reserved for garnish)
1 teaspoon toasted sesame seeds
Directions
Marinade:

1. Combine the soy sauce, garlic, vinegar, honey, ginger, onions, lime juice, sesame oil and sesame seeds to make a marinade. Pour marinade into Ziplock bag, add chicken tenders and mix around so that all pieces of the chicken are covered in the marinade. Set in the fridge for at least 1-2 hours, I like to make this in the morning before the kids get up and then let is marinade all day"¦ah-mazing!

2. If you are using metal skewers skip this part, if you are using wood skewers follow the directions below.

3. Now I know there is a debate whether or not to soak your skewers and to each their own. But I soak mine, I have found that I get less wood pieces in the chicken and they don"™t go up in flames. They still may char a tad, but not following apart or on fire.

4. I completely soak my skewers for 30 minutes, sometimes all day. Make sure the entire stick is completely dredge in water. Once they have soaked, remove and start to assemble the skewers.

Kabobs:

5. Remove the chicken from the fridge, one piece at a time grab a tender and lace through the skewer. I start at the chunkier end and do a weave motion. Or you can just slide the entire tender on the kabob and not make it all fancy like a wave. Either way, they will taste the same. Set kabob on a plate and repeat the process. Once completed drizzle extra marinade over the chicken, and let it sit while grill is heating up.

6. Heat gas or charcoal grill, remove chicken from marinade. Place chicken on grill over medium heat. Cover grill and cook 3 minutes, then turn over the kabob and cook another 3 minutes. At this point check the chicken. To know if the chicken is done the juices should be clear and the center of thickest part is cut (170°F). If not done, continue to cook, at this point I leave the lid open and just turn the kabobs so they are cooked evenly on both sides. My chicken takes about 8-10 minutes.

7. Remove from grill and serve immediately. Or cover with foil and serve later.
Recipes by Course
Recipes by Main Ingredient
Recipes by Cuisine
Recipes by Preparation
Recipes by Occasion
Recipes by Dietary