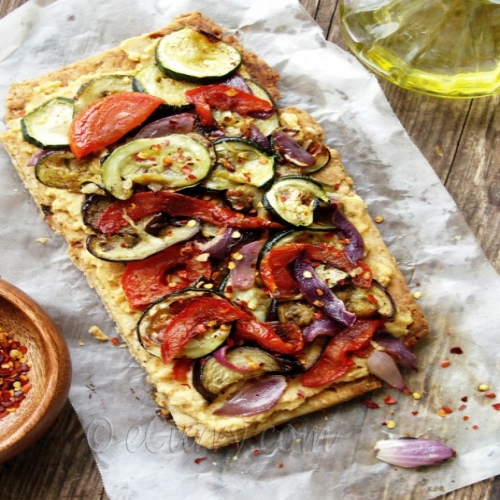 Prep Time:
Cooking Time:
Serves:
Grilled Vegetable and Hummus Tart
Recipe Submitted by

Rosemary

on

11/29/2014
Category: Vegetarian, Vegetables, Grill
Ingredients List
Hummus "" recipe below
Olive Oil Tart crust - recipe below
Roasted Vegetables - recipe below
Sea Salt
Olive Oil
Red Crushed Pepper (Optional)
For Hummus:
1.5 cups cooked chickpeas
1/4 cup sun dried tomatoes
1 clove garlic
salt
a very generous splash of extra virgin olive oil
1.5 teaspoons lemon juice
1 tablespoon tahini (optional)
Grilled Vegetables:
1 medium red onion, thickly sliced
2 zucchini, sliced
1 small eggplant, sliced
2 medium tomatoes, sliced
6 cloves of garlic. minced or grated
coarse sea salt
freshly ground black pepper, to taste
red crushed pepper, to taste
a good drizzle of olive oil
herbs (optional)
sumac (optional)
For the crust:
2 cups all purpose flour
1/3 cup + 2.5 tablespoons olive oil (I have used Rosemary Infused Olive Oil)
1/4 cup + 1.5 tablespoons very cold club soda (use a little bit more or less to make a soft but non sticky dough)
1 teaspoon salt
freshly ground black pepper
dried herbs, (optional) "" any kind you like
Directions
Making the crust:

1. In a bowl combine flour, salt, black pepper, herbs with a whisk.

2. Whisk together club soda and oil until almost creamy, for about 2 minutes.

3. Pour the oil water mix in to the flour mix and stir together with a fork, until the flour come together in a dough form and no dry flour is left. If you think you need extra liquid, add some more club soda or just cold water in very very little amount. Use your hands briskly to pull the flour together in to a dough, and work with the dough briefly and gently and just long enough to pull the dough together. Do not work with /handle the dough too much. The dough should be soft, but not at all sticky. It will not be very stretchy, but will rather kind of come apart.

4. Divide the dough into two parts and roll gently between two sheets of waxed paper, in a single direction. I rolled them into rectangles "" 8"³ by 2.5"³, but you can roll them into whatever shape you desire. Do not roll back and forth. Remove the top parchment paper. Trim the edges, to even it out if you wish. Prick the crust with a fork.

5. Bake the crusts on the same parchment paper at 400 degree F for about 12 minutes, or until the crust is golden.


Preparing the Hummus:

6. Drain the sun dried tomatoes (if you using tomatoes in oil). Save the oil. If you wish you can use this oil instead of the olive oil. If you are using dried version of the sun dried tomatoes, first reconstitute them in boiling water until softened. Chop the tomatoes in smaller pieces.

7. Drain the chickpeas and save the liquid.

8. Combine all ingredients for hummus in a food processor. Process until smooth; if you need to use liquid, use the liquid of the chickpeas.



Grilling the vegetables:

9. Whisk olive oil, salt, herbs, crushed pepper and minced garlic.

10. Grill the vegetables in a regular grill drizzled with the above olive oil mix.

OR

11. Place all sliced vegetables in a single layer in a baking tray; drizzle the garlic oil. Roast at 380 degree F in a pre heated oven, tossing them midway for 30 minutes.

OR

12. Cook the vegetables on a stove top cast iron grill/skillet drizzled with garlic oil.


To make/assemble the tart:

13. Cool the crust to warm. Spread about 1/2 cup of hummus on the crust (or as much as you want). Arrange roasted vegetables on the top of the hummus. Sprinkle some sumac and sea salt on the vegetables. Repeat with the other crust. Drizzle with some olive oil and crushed pepper if you wish. Bake the tart in the oven for about a minutes at 350 degree F, just enough to warm the tart.

14. Serve warm or at room temperature.
Recipes by Course
Recipes by Main Ingredient
Recipes by Cuisine
Recipes by Preparation
Recipes by Occasion
Recipes by Dietary