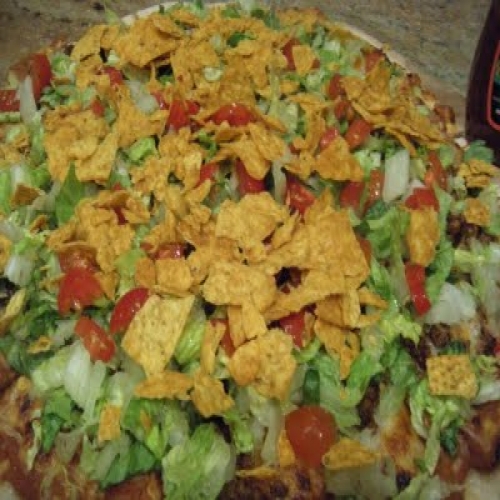 Prep Time:
Cooking Time:
Serves:
Ingredients List
2 dough balls
1 can refried beans (best to find the kind that are smooth, my Rosarita were too chunky)
Taco Sauce (I buy Happy Joe's, but there are brands at the grocer. This is not salsa)
Pizza Sauce (less than 1 cup)
1 pound ground beef
1 packet taco seasoning
Mozzarella cheese, shredded
Colby jack cheese, shredded
Shredded lettuce
Chopped tomatoes
Taco Doritos
Directions
Brown the ground beef, drain any excess fat. Add taco seasoning and a little water. When it is cooked through, remove from heat and let cool slightly.

Roll out, stretch, toss your crusts until they are the desired thinness. Preheat oven to 480° degrees. I baked my pizzas on a pan, but the crust did not get sufficiently crunchy, perhaps a stone would be better, or grilled is always good.

Mix taco sauce, beans and pizza sauce together. How much? Well, I used about ½ can of beans and ¼ cup taco sauce and ¼ cup pizza sauce. You can alter it to your own taste. Spread this over the crust.

Top with a mozzarella, then ground beef, then Colby Jack.

Bake until cheese is bubbly and crust is golden, about 10 minutes in my convection. Let sit for a few minutes to allow cheese to set a bit and slice pizza. Then cover the pie with lettuce, tomatoes and Doritos (crush them into manageable pieces). Serve with additional taco sauce. It is, in many ways a taco salad on a pizza. It is not easy to eat, toppings fall off with every bite.
Recipes by Course
Recipes by Main Ingredient
Recipes by Cuisine
Recipes by Preparation
Recipes by Occasion
Recipes by Dietary