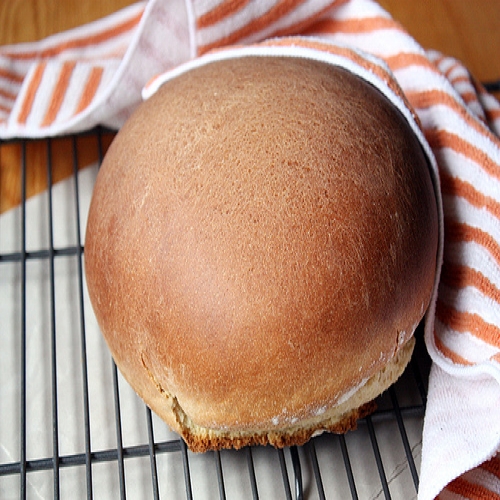 Prep Time:
Cooking Time:
Serves:

1 free-form round, about 10 rolls or 1 sandwich loaf
Category: Lunch/Snacks, Breakfast, Breads
Ingredients List
1 1/4 teaspoons active dry yeast
2 tablespoons warm water
1/2 cup sugar, divided
1/4 cup instant mashed potatoes, cooled
1/2 teaspoon lemon juice
2 tablespoons warm milk
1/2 teaspoon salt
2 large eggs
2-3 cups unbleached all-purpose flour
2 tablespoons unsalted butter, cubed and softened
Directions
In a large bowl or the bowl of a stand mixer fitted with the paddle attachment, whisk together yeast, water, 1 tablespoon sugar and mashed potatoes. Let sit for 5 minutes. Add remaining sugar, lemon juice, milk, salt, eggs and 1 cup flour and stir thoroughly to combine.

Replace paddle attachment with dough hook and add 1/2 cup more flour and butter, mixing on low speed until smooth. Add more flour a few tablespoons at a time, mixing on low speed, until the dough starts to come away from the sides of the bowl.
Increase speed to medium and knead about 5-6 minutes, adding more flour as necessary until the dough is slightly sticky but no longer tacky. Alternatively, remove the dough from the bowl and knead for 10 minutes on a lightly floured surface until slightly sticky. You might not use all the flour, and that"™s OK.

Shape dough into a ball and place in a lightly greased bowl covered with plastic wrap until doubled, about 2 to 3 hours.
Turn risen dough out onto a lightly floured surface and punch down. Shape into a large free-form round, into rolls or into a sandwich loaf (see here for how to shape it). Place free-form loaf or rolls onto a lightly floured baking stone or parchment paper-lined baking sheet; place rectangle into a lightly greased 8-by-4-inch loaf pan. Cover with a towel and let rise 45 minutes to 1 hour.

Preheat oven to 350 degrees F. Bake bread for 30-40 minutes until a deep golden brown or when an instant-read thermometer inserted in the bottom of the loaf reads 200 degrees F. Remove from oven and cool completely on a cooling rack before slicing or serving.
Note: If you want to make this ahead of time for Thanksgiving, you can cover the bread tightly in plastic wrap, then aluminum foil, and place in freezer until turkey day. Just be sure to take it out of the freezer and let it sit on the counter about 12 hours before you want to serve it.
Recipes by Course
Recipes by Main Ingredient
Recipes by Cuisine
Recipes by Preparation
Recipes by Occasion
Recipes by Dietary